Scores arrested in wildlife poaching raids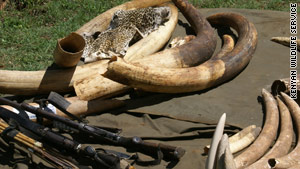 Illegal ivory, weapons and animal skins seized in Kenya during Monday's raids.
STORY HIGHLIGHTS
2 tons of ivory seized in operation targeting wildlife smuggling in east Africa
Operation Costa involved agencies in Burundi, Ethiopia, Kenya, Rwanda, Tanzania, Uganda
Shops and markets in all six countries inspected and raided
Interpol says exercise was "biggest ever transnational wildlife crime operation in Africa"
(CNN) -- More than 2 tons of ivory has been seized and more than 100 people arrested in an international operation targeting wildlife crime in eastern Africa, Interpol announced Monday.
In a news release, the international police organization called it the "biggest ever transnational wildlife crime operation in Africa."
Working under the code name Operation Costa, officers from police, national wildlife, customs and national intelligence agencies collaborated across six countries -- Burundi, Ethiopia, Kenya, Rwanda, Tanzania and Uganda, Interpol said.
Shops and markets in the six countries were inspected and raided, resulting in the seizure of ivory, weapons and ammunition and the confiscation of vehicles.
"The success of Operation Costa is notable not only for the sheer volume of illegal ivory which has been recovered, which is among the biggest-ever hauls recorded, but because it also clearly shows the ability and will of law enforcement to effectively tackle wildlife crime," said Peter Younger, manager of Interpol's OASIS (Operational Assistance, Services and Infrastructure Support) Africa wildlife crime program. The initiative is funded by the German government with support from the Humane Society of Canada.
"The illegal ivory trade is not just about smugglers and poachers; there are far-reaching consequences to this and all wildlife crime," Younger said. "Law enforcement officers have been killed, people are threatened with violence, corruption and the wider economic impact on a country are all linked to this type of crime."
He predicted the operation will result in more arrests.
Operation Costa was named in honor of Constantius "Costa" Aloysius Mlay, a former director of the wildlife division of the Tanzania Ministry of Natural Resources and Tourism. It is Interpol's second such initiative. The first, Operation Baba, was conducted last November and netted the seizure of nearly a ton of illegal ivory and the arrests of nearly 60 people after actions in Congo, Ghana, Kenya, Uganda and Zambia.
The latest operation occurred all over Eastern Africa, said Kentice Tikolo, head of corporate communications for the Kenya Wildlife Service, which worked with Interpol, the Lusaka Agreement Task Force and Kenya police.
The Kenya operation alone resulted in the seizure of more than a ton of illegal ivory, she said. Results from the other five countries involved in the ongoing operation have not been reported.