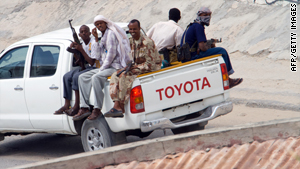 Somalian soldiers pass an African Union Mission in Somalia base in Mogadishu, on November 24, 2009.
STORY HIGHLIGHTS
Canadian Amanda Lindhout and Australian Nigel Brenan released
The two journalists were held in captivity in Somalia for over a year
Militia men abducted them outside the capital city of Mogadishu in August 2008
They were snatched as they were returning to the city after having visited a refugee camp
(CNN) -- Two international journalists were released Wednesday after more than a year in captivity in Somalia.
Amanda Lindhout, a Canadian journalist, told TV Globo that she and Nigel Brenan, an Australian photojournalist, were released after having been held since August 2008, when militia men abducted them outside the capital city of Mogadishu.
Lindhout divulged few details of their captivity or their release. "Until I'm out of the country, I just don't think it's a good idea to say anything," the reporter from Calgary said from a hotel in Mogadishu.
She described herself as "in shock."
"I can't believe it," she said. "This morning, I woke up and I was in absolute despair and tonight I'm sitting in a hotel room. It's absolutely unbelievable. I'll really be relieved to be out of the country, though."
She said she wanted to spend time with her family in Canada. "I have a chance to sort of reevaluate my whole life," she said. "Everything has changed. I'm not the same person as I was 15 months ago."
Lindhout said she and Brennan were planning to travel Thursday to Nairobi, Kenya.
The two had been in the country just three days when militia men snatched them outside Mogadishu as they were returning to the city after having visited a refugee camp.
Somalia has been mired in chaos since 1991, when warlords overthrew dictator Mohamed Siad Barre and sparked clan infighting. Somalia's current transitional government is trying to maintain control of the capital, with the help of Ethiopian forces.
Ethiopia invaded Somalia in December 2006 to install the transitional government in Mogadishu after a decade and a half of near-anarchy. The invasion had the blessing of the United States, which accused Islamists of harboring fugitives from the al Qaeda terrorist movement.
But the Ethiopian troops quickly became embroiled in an insurgency led by the Islamists. And as guerrilla attacks mounted, efforts to replace the Ethiopians with an African Union-led peacekeeping mission faltered.
The conflict displaced hundreds of thousands of Somalis, worsening a humanitarian crisis that dates back to the collapse of the country's last government in 1991.
The situation has been exacerbated by drought, continual armed conflicts in central and southern Somalia, and high rates of inflation.
In a statement on its Web site, the National Union of Somali Journalists said it was "overjoyed" by the news about the journalists' release.
The union said the two were released at 8:40 p.m. (12:40 p.m. ET), according to Ahmed Diriye, a member of Parliament, and taken to the heavily guarded Hotel Sahafi in the center of the city.
"We welcome the happy end to the tragedy of the kidnapping of Amanda Lindhout and Nigel Brennan," said Omar Faruk Osman, NUSOJ secretary general.
Four members of the Transitional Federal Parliament led by Ahmed Diriye handed over the journalists at a checkpoint manned by transitional federal government forces.
"We are very pleased that Amanda and Nigel have been released after all these 15 months of horrible horror," Faruk said. "We are also very happy this ordeal ended peacefully. We are sharing our joy and relief over the release with the family and colleagues of the journalists."
Committee to Protect Journalists Executive Director Joel Simon expressed similar thoughts: "We are relieved that the Amanda and Nigel are now free and that their ordeal has come to an end," he said in a posting on the group's Web site. "Our thoughts are with them and their families."