STORY HIGHLIGHTS
ICRC says camps should be "last resort" for people fleeing violence in their own countries
Report argues that too little help is given to local communities who provide refuge
Most internally displaced people move to other places ill-equipped to cope
One victim, Mariam, fled from her village in Darfur in 2005, and only returned this year
(CNN) -- It was late in the evening when the gunmen came, some on horseback, others on foot, to terrorize the residents of a small settlement north of Gereida in Darfur, Sudan.
Mariam grabbed her four children and fled into the night with about 300 families as the rebel militia fired bullets above their heads.
"They chased us out of our place, uprooted us," Mariam told the International Committee of the Red Cross who found her back in Gereida earlier this year after a four-year exile from her tribe's traditional land.
When she fled in 2005, her youngest child was strapped to her back. "We walked for two days, always looking for somewhere to rest. With the heat, we were exhausted. On the third day, my baby died," she said.
The ICRC is using Mariam's story to illustrate the hardship endured by 26 million people worldwide who have been driven from their homes as a result of armed conflict and violence.

Video: Lost in Darfur: Mariam's Story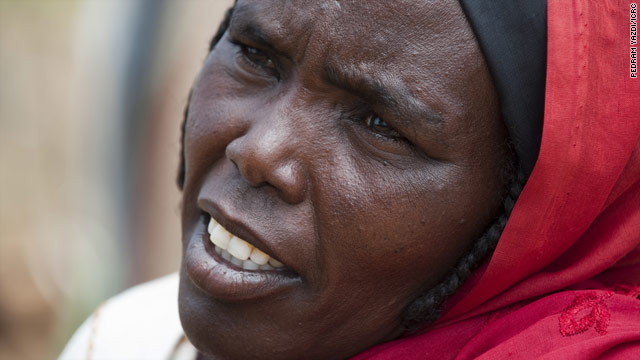 Gallery: ICRC: Plight of the internally displaced
In a report released on Thursday, the ICRC argues that while internally displaced people -- or IDPs as they are known -- are hungry and homeless, establishing mass camps to house and feed them should be the "last resort."
"The focus on camps means that what happens to the majority of displaced people -- those who seek refuge with host communities -- is often ignored," ICRC President Jakob Kellenberger said.
When Mariam's people fled from their village, the vast majority ran south to Gereida, a small town of 20,000 people, according to the ICRC.
The town's numbers swelled to 148,000 people, many of whom now live in temporary accommodation and rely on services provided by aid agencies for their survival.
The locals no longer fear failed harvests, as food is provided by the World Food Program. Unlike the local hospital, health services are free. Every child goes to school and the water is much cleaner than it ever was in the villages.
The ICRC says even if conditions improve in their former homes, fewer than one third of the internally displaced people currently living in Gereida are expected to return.
"You really have to think: Do I want these people to retain an incentive to go home? You can create an environment that is so much better than where people came from that they just will not return," Kellenberger says.
The ICRC says it is "greatly concerned" by what it calls the increasing tendency of aid agencies to compartmentalize aid for internally displaced people, to the detriment of people who have chosen to either stay in their homes or seek shelter with locals.
The report tells the story of Central Mindanao in the southern Philippines, where fighting forced people to seek shelter with already impoverished families. Some households were found to be hosting as many as 20 displaced people.
And in the North-West Frontier Province in Pakistan, hundreds of thousands of people forced from their homes by fighting this year are living with host families.
"It is Pashtun tradition that you take in relatives in need, no matter how weak and precarious your own situation. We could see then that over the medium and long term the presence of those displaced people would impose a very significant burden on the host families," Kellenberger says.
"So this labeling, limiting things to IDPs in camps, is dangerous," he says.
Mariam is now back in her homeland, living with her children in a tent covered in rough sheets of tarpaulin.
"God willing, we hope for a school for the children, water and some income," she says.
"Only God knows if the war is over for good. I think it is. We need it to be over now."