Mugabe opponent Bennett's trial adjourned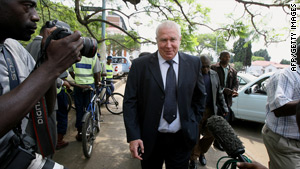 Roy Bennett arrives at the Zimbabwe High Court in Harare on Monday.
STORY HIGHLIGHTS
Judge in trial of opposition aide to deliberate on admissibility of evidence
MDC's Roy Bennett faces charges including terrorism, sabotage
Lawyer says key witness against Bennett has disowned statement
Witness says he was tortured into implicating Bennett in a coup plot
(CNN) -- The trial of key Zimbabwe opposition figure Roy Bennett was adjourned in the Harare High Court Monday so the judge can deliberate the admissibility of evidence allegedly gathered through torture.
The state's star witness Mike Hitschmann, who was convicted of the illegal possession of weapons in 2007, alleges that he was tortured into implicating Bennett in a coup plot.
Bennett's lawyer, Trust Maanda, said the state insists on using the statement Hitschmann says he made under duress as evidence showing Bennett planned to overthrow President Robert Mugabe in 2006.
"He has disowned that statement and does not want to testify for the state," Maanda told CNN. The judge is expected to make his ruling on Wednesday.
Bennett -- an aide to Prime Minister Morgan Tsvangirai and treasurer general for the Movement for Democratic Change -- faces charges including terrorism and sabotage.
The trial comes at a critical time in Zimbabwe. The Southern African Development Community has instructed Mugabe and Tsvangirai to resolve their differences in 30 days.
Another outspoken Mugabe critic was arrested on the eve of Bennett's trial.
Lovemore Matombo, the president of the Zimbabwe Congress of Trade Unions, was arrested Sunday night in Victoria Falls while addressing local union members, the union announced Monday.
Local union leaders were also arrested, as were national staff members Michael Kandukutu and Percy Mcijo, the union said in a statement.
The case against Bennett, which Tsvangirai has called a malicious prosecution, prompted the Movement for Democratic Change to temporarily withdraw from a unity government with Mugabe last month.
The MDC has suspended its pullout for now, but Tsvangirai has once again called for the withdrawal of charges against Bennett.
Bennett has long been a thorn in the side of Mugabe's Zanu-PF party.
He was released from prison in June 2006, after serving eight months for pushing the minister of justice, Patrick Chinamasa, in parliament. Chinamasa had called Bennett's forefathers thieves and murderers.