STORY HIGHLIGHTS
More than 60,000 children, youth live on Nairobi's streets, according to charity groups

Pregnant and out of work, Joan's homelife became the street life at age 15

Street kids form tight-knit groups; they survive by sharing food, clothes and money

"You can be raped any day, any time, by anyone who wants to do it," says Joan

CNN and Oprah's Book Club are teaming up to bring you a discussion of "Say You're One of Them," a book of short stories about African children who face the unimaginable. While the book is fiction, the issues in Africa are real. RSVP for the live Web event on Monday, November 9 at 9 p.m. ET.
Nairobi, Kenya (CNN) -- On a wet dawn in Nairobi, Kenya, Joan stands on a grubby patch of concrete she calls home.
As shopkeepers tear open their iron shutters to start their day, she gingerly touches her bruised face with her fingertips. Even for a hardened street teenager like Joan it's been a rough night.
"Living in the streets, especially if you are a girl, is very risky," says Joan, age 19. "You can be raped any day, any time, by anyone who wants to do it."
Joan became the target of one of those predators just one night earlier when she says an older street kid tried to rape her. In a monotone voice she describes how he mercilessly beat her with his fists and heavy boots when she resisted. Joan spent the rainy night in pain lying on her flattened cardboard box.
This is Joan's reality. It is a reality she shares with thousands of others. More than 60,000 children and youth live on Nairobi's streets, according to various charity groups. Tens of thousands are at risk of ending up there. Unlike some other cities in Africa, Nairobi's street people aren't always visible. They are banished to the gray industrial parts of the city, often harassed by police, business owners and ordinary citizens.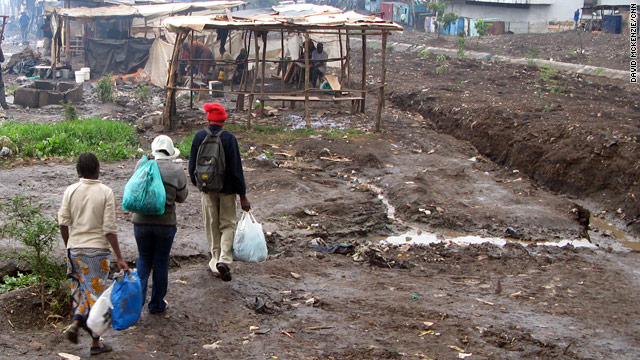 Gallery: Living in the streets
The way Joan's homelife became the street life is, in many ways, the story of how a generation of African youth end up without homes. At 15, Joan worked as a maid in a town a few hours from Nairobi. But she says the owner abused her and got her pregnant. In a fit of jealousy, Joan says the owner's wife threw her out of the house and she ran away to the capital out of shame and desperation.
Finding herself among people wracked by poverty but bound by common struggles, Joan learned to beg with her baby from cars stuck in traffic and struggled to keep warm on rainy nights. She and her newborn survived together for more than a year on the streets but she eventually sent him to live with her mother. Somehow, she says, she has managed to hide her street life from her family.
"I don't belong here. It is shameful everybody knowing that you are on the street," says Joan.
Street kids form their own tight-knit groups. Joan is part of a small community who do what they can to help each other survive by sharing food, clothes and money.
"We see that the rest of the community hates us," says Joan. "We ask ourselves if the community is not taking care of us, we should remain as our own family."
That often means sheltering each other from the violent streets. Just a day before she was attacked, Joan took a boy who had been injured in a fight to the hospital. Now it is her turn. A friend lends her a faded green shawl to cover her swollen face and a Joan limps off to find a Matatu bus, Kenya's ubiquitous people carrier, to ferry her for treatment.
A tear trickling down her eye is the only betrayal of her pain. The clean wards and tender words are a brief respite for Joan. The doctor says there is no major damage and gives her some painkillers in a brown paper bag. All Joan can do is head back to her patch on the street.
Despite her daily struggles to survive, Joan refuses to return to begging and instead turns to dealing. To make enough money to help her son, she sells highly addictive glue to young street kids.
Sitting on a broken piece of concrete below the edge of the Globe Roundabout, Joan sells liquid glue from a water bottle to ragged children at 10 Kenyan shillings a hit. They stumble over barefoot to Joan and she tops their bottles up with an inch of the toxic substance. The street kids sniff the glue into oblivion. After a while, a small group of boys gather around Joan with the vacant look of wasted futures.
"You know that you are doing an illegal business," she says. "You feel that you are spoiling someone's life. But the circumstances we are in are forcing you to do it."
The harsh urban realities of Africa give Joan no other choice, she says. She dreams of being an actress or a musician and says she wants to go back to high school. But survival is her goal while she's living on the streets.
"I feel bad and I feel maybe hated and I feel that life doesn't belong to me, but according to me and according to my lifestyle and according to my determination, I have never allowed myself to be a victim of my situation."

FOLLOW THIS TOPIC