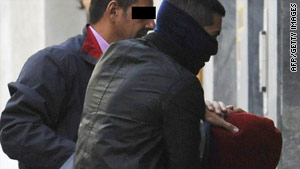 Spanish policemen escort to a juvenile court in Madrid an alleged pirate suspected of helping to seize the Alakrana.
STORY HIGHLIGHTS
Pirates holding Spanish fishing boat captive for a month transferred three crew members to land
Thought to be first time 36 crew members have been removed from the ship captured off Somalia
Pirates have captured more than 50 ships this year off Somalia and are currently holding 12
Madrid, Spain (CNN) -- Somali pirates holding a Spanish fishing boat captive for the past month suddenly transferred three of the crew members to land Thursday, Spanish Defense Minister Carme Chacon said.
"I can confirm that the pirates who have the boat ordered some of the crew to call their families to tell them that three of the crew were going to be put on smaller boats to take them to land," Chacon said at a nationally-televised news conference. "We know where they (the three crew members) are and we know they are well."
It is thought to be the first time that any of the 36-member crew -- 16 from Spain and 20 from Africa and Asia - were removed from the Alakrana, which was captured October 2 in international waters off Somalia.
Various Spanish relatives of crew members talked to Spanish media Thursday, saying they had received urgent phone calls from their loved ones on the ship, urging the Spanish government to immediately release two suspected piratesbeing held in Madrid.
The two suspects, identified as Raageggesey Hassan Haji and Cabdiweli Cabdullahi, were detained by the Spanish military a day after the fishing boat was captured.
The two suspects had left the fishing boat in a small vessel heading toward land, authorities said, and the military swooped in to stop them on the high seas. They were later brought to Madrid, where a judge has charged them with piracy and kidnapping.
It is thought to be the first time suspected Somali pirates have appeared before a Spanish judge and been charged.
Chacon, speaking at the Spanish Prime Minister's compound after a high-level government meeting on the latest development, declined to answer a reporter's question about the nationalities of the three crew members taken to land.
Chacon said Spain, which has two naval frigates and other military assets in the area where the fishing boat is being held, is doing its job, along with its allies, in combating piracy and putting captured pirates before the appropriate judicial authorities.
A reporter asked if it were true that the pirates have given Spain a two-day deadline to release the pirate suspects in Madrid or else face consequences for the hostages, and Chacon said the government would not respond to alleged statements by pirate spokesmen.
Pirates have captured more than 50 ships this year off Somalia and are currently holding 12, including the Alakrana, Chacon said.
She said Spain is working to bring home the hostages safe and sound, in concert with its allies, and that Spain is keeping all its options open regarding the Alakrana.
Spain's Defense Ministry and the boat's owner, the Echebastar Fleet of Bermeo, Spain, have been closing monitoring the situation but have generally been tight-lipped about details of potential negotiations.
The Echebastar Fleet has said the Alakrana is the first of its ships to be captured by pirates, but there have been previous attempts on its ships.
A Spanish tuna fishing boat from another company was seized last year by Somali pirates and later released, after ransom reportedly was paid.
Spain is part of a European Union task force against piracy in the Indian Ocean off Somalia. The Spanish parliament last January agreed to increase Spain's presence with up to 395 troops and assets, including a frigate and aircraft.
Chacon told parliament before the vote that the fight against piracy "is of vital importance for the defense of the geostrategic and economic interests of Spain, and will provide security to our fishing fleet," according to a defense ministry statement.