STORY HIGHLIGHTS
Pirates boarded ship and forced couple to sail for Somalia, man says
"They ... took everything of value," he reports by phone
British navy found empty yacht in international waters Thursday
British couple left Seychelles for Tanzania on October 21
(CNN) -- A British man and his wife were taken hostage by armed pirates who boarded their yacht, the man said in an interview released Thursday.
Paul Chandler told ITV News that he and his wife, Rachel, are being held on a container ship near the Somali coast.
He said three boats came alongside their yacht when he was asleep.
"Men with guns came aboard," he told ITV by a crackly phone connection. "Then we were forced to sail ... toward Somalia."
Chandler said he and his wife were taken off the yacht and were held on a container ship called the Kota Wajah, ITV reported.
"They kept asking for money and took everything of value on the boat," he said.
The phone connection cut off before Chandler was able to tell ITV how the couple was being treated. Repeated attempts to reach him again were unsuccessful, ITV said.
Also Thursday, the British navy said it had found the couple's empty yacht in international waters.
A ministry spokesman said it appeared that the couple had been transferred to another vessel.
"There's nothing to indicate that they've been harmed," said the spokesman, who asked not to be named in line with policy.
"We will be using all the methods at our disposal to ensure the safe return of these British nationals," British Foreign Secretary David Miliband said.
British Prime Minister Gordon Brown has called for the release of the couple, according to the UK's Press Association.
Brown said a news conference, "Piracy and the taking of hostages is unacceptable in any circumstances. We call on those people who have taken the British citizens hostage to release them as soon as possible."

Video: Captive describes hijack

Video: UK couple kidnapped by pirates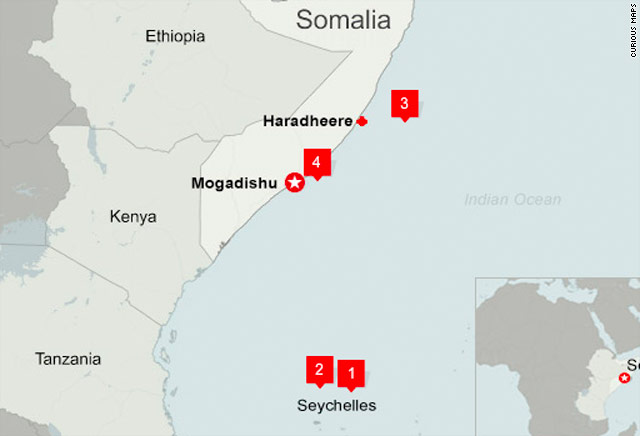 Hostage couple's last movements
The Chandlers set off from the Seychelles for Tanzania on October 21 on their 38-foot-yacht, the Lynn Rival, according to their blog. A distress beacon was activated October 23, according to naval officials.
Britain's Foreign and Commonwealth Office issued a statement Thursday saying "hostage taking is never justified."
It said, "Paul and Rachel are blameless tourists and they should be released immediately and unconditionally. The families are deeply concerned for the safety of their loved ones."
Foreign office staff members have been in close contact with their families, it said.
Pirates have been very active off the east coast of Africa in the past several years, operating out of lawless Somalia.
Two vessels were attacked the day after the Chandlers set sail. One of them, a cargo ship, was boarded and seized off the Seychelles, and the other fought off its attackers near the Kenyan coast.
On Thursday, pirates attacked and boarded a Thai-flagged fishing vessel about 200 miles north of the Seychelles, according to the European Union Naval Force. The EU group's aircraft spotted the pirates onboard and said the vessel now appears to be heading toward the Somali coast.
The Thai vessel is the eighth ship held by criminals at the Somali coastline, the EU force said.
Attacks in the region have significantly increased this year, according to the International Maritime Bureau, which monitors shipping crimes. But successful attacks have gone down as a result of a strong presence of international monitors.
The first nine months of this year has seen more pirate attacks than all of last year, the bureau reported October 21. From January 1 until September 30, pirates worldwide mounted 306 attacks, compared with 293 in all of 2008, it said.
More than half of this year's attacks were carried out by suspected Somali pirates off the east coast of Somalia and in the Gulf of Aden, a major shipping route between Yemen and Somalia.
Out of those attacks, Somali pirates hijacked 32 vessels and took 533 hostages. Eight people were wounded, four were killed, and one is missing, the bureau said.