Trial of former top cop grips South Africa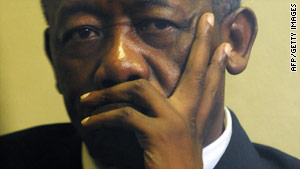 Selebi pictured in April 2009 before the start of his trial on corruption charges
STORY HIGHLIGHTS
Former top cop Jackie Selebi is accused of taking gifts and payoffs to protect criminals
The 59-year-old has denied charges of corruption and defeating the ends of justice
The prosecution's star witness is convicted drug dealer Glenn Agliotti, a former friend
Trial is expected to drag on for months as witnesses take the stand
Johannesburg, South Africa (CNN) -- A high-stakes trial has kicked off to determine whether South Africa's former police commissioner is a corrupt cop or a man wrongly accused of being in the pocket of criminals.
The trial of former top cop Jackie Selebi, a 59-year-old former anti-apartheid activist, has gripped South Africa.
Selebi -- who also was the president of the international police organization Interpol -- has pleaded not guilty to charges of corruption and defeating the ends of justice. He is accused of helping criminals evade the law in exchange for gifts and payoffs.
The prosecution's star witness is convicted drug dealer Glenn Agliotti, whom Selebi once called a friend.
Agliotti, who faced a murder charge, reached an immunity deal with prosecutors to testify about how he allegedly bribed Selebi with expensive clothes and cash. Agliotti's testimony also implicates South Africa's highest office.
Agliotti testified that he bought a pair of shoes for then-President Thabo Mbeki, who is accused of using his authority to shield Selebi from prosecution.
Selebi's defense team has attacked the prosecution's case with a bombshell video of the convicted drug dealer recanting some his statements and seeming to deny that he ever bribed the former police commissioner.
In one part of the video, Agliotti criticizes the motives of authorities investigating Selebi.
"Their whole prime objective is to take down Selebi, and it's a politically motivated thing," Agliotti said.
Selebi's attorneys are using that recording to try to prove that Agliotti will change his story to save himself.
Though a trial verdict could be months away, some in South Africa have been troubled by such allegations levied against leaders.
Selebi's trial follows the April corruption trial of current President Jacob Zuma. Charges against Zuma were controversially dropped before a verdict in that case, because of alleged political interference.
"It's very sad on one level that the Nelson Mandela nation has now become this country where it seems so many high-ranking people in government, from the president right down to many municipal managers, have been tainted with this corruption charge," said South African journalist Stephen Grootes. "It raises two questions: Do we have criminals running the show, or is there a problem with the justice system?"
Because Zuma's case ended without a verdict, many South Africans hope that Selebi's case will come to a resolution. But the case has stalled this week as Selebi's attorneys have asked the judge to recuse himself, alleging bias.
Along with that, peripheral issues and an exhaustive list of witnesses mean that the case will take months to resolve.