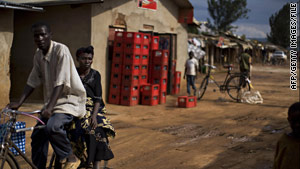 The Nakivale refugee camp, pictured here in May, is reportedly experiencing some food shortages.
STORY HIGHLIGHTS
Anti-riot police used tear gas and rubber bullets to clear protesters from road, police say
A refugee leader says two refugees were killed, but police say no one died
Many in camp barricaded roads after disruption in food distribution
Refugee leaders: 5 children have died of hunger in camp in past week; others dispute claim
Kampala, Uganda (CNN) -- Police fired warning shots Wednesday near a crowd of protesters at a refugee settlement in southwestern Uganda. A refugee leader said two refugees were killed, but police said no one died.
Serugendo Sekalinda, who said he represents other Congolese refugees in the Nakivale settlement, told CNN in a telephone interview that two Somalians were killed in the incident and one Congolese woman was injured.
But Acting District Police Commander Angel Mwebembezi told CNN that no one was killed and there were no serious injuries, although police did fire warning shots into the air. Anti-riot police were also brought in, he said, and used tear gas and rubber bullets to clear the protesters from a road.
"The refugees had cut down big trees and used them to block the roads," he said.
Many refugees in the camp of 60,000 people barricaded the roads beginning Tuesday to protest a disruption in food distribution and to show their anger at the half-rations they had been receiving since August.
Refugee leaders said five children have died in the camp in the past week due to hunger.
"The people decided to block the road, and when [aid workers] came without bringing food, then problems began," Sekalinda said.
The deputy director for the World Food Programme in Uganda, Hakan Tongul, told CNN that a vehicle carrying WFP staff members was briefly blocked as it tried to enter the settlement Wednesday, but police dispersed the crowd.
"We were traveling in our car going to one of the settlement centers to prepare for the arrival of the food consignment and were stopped by a mob that deflated all the tires," said one of the WFP workers, who declined to be named because they were not authorized to speak about the matter.
"Stealthily, we managed to send out messages on our phones to police and our authorities," the worker said. "Police came in to our rescue, but the refugees were getting more violent. This is one of the reasons why they had to open fire."
Tongul said 12 trucks carrying 280 tons of food would arrive at the Nakivale settlement later Wednesday, and distribution of the food would begin Thursday.
Mwebembezi said a heavy police presence will accompany the food trucks.
"Our worry is, if the food is not enough," there will be further problems, the police commander said.
"The people are very bitter, they are hungry, some have spent a long time without food, and they are starving," Mwebembezi said.
Some have spent a long time without food, and they are starving.
--Angel Mwebembezi, acting district police commander
Needa Jehu Hoyah, a spokeswoman for the United Nations refugee agency, known as UNHCR, told CNN on Tuesday that no children have died in the Nakivale settlement.
"We have a malnutrition program [in Nakivale] for children, [but] no children have died of hunger there," she said by telephone from the Ugandan capital of Kampala.
Uganda's disaster preparedness and refugees minister, professor Tarsis Kabwegyere, also said no one was dying of hunger in Nakivale, and expressed dismay that the refugees were protesting.
"I don't understand how refugees who have been given a home can stand against the people from whom they get food and shelter," he told CNN on Wednesday from Kampala.
The minister said he was investigating the situation.
Tongul said the WFP supports more than 108,000 people in five refugee camps in Uganda.
A drop in donor funds was responsible for the recent food shortages, he said.
"The WFP works from contributions from donors," Tongul explained. "We haven't had very successful contributions lately."
But he praised the Ugandan government, saying it's very generous in helping refugees.
"This government is one of the most hospitable governments I've seen in dealing with refugees," Tongul said.
About 50,000 of the 60,000 refugees in the sprawling Nakivale settlement fled fighting in the Democratic Republic of Congo. Others came from Rwanda, Ethiopia, Somalia, Eritrea and Kenya. The camp, which opened two decades ago, lies about 400 kilometers (250 miles) southwest of Kampala and 6 kilometers (4 miles) north of the Ugandan border with Tanzania.
Sekalinda said the refugees there want to be sent to another country "where we can be protected from death caused by hunger."
"They say they will give you food tomorrow, then the next day they say the same thing," he said. "They are lying."
He also complained that the water in the Nakivale settlement was dirty and expressed concern for the future of Congolese children living there.
People in the settlement are provided small plots of land on which to grow crops, and they often build huts made of mud, water and thatched grass.
As many as 155,000 refugees live in all the camps in Uganda, according to the UNHCR. As of January of this year, there were also an estimated 853,000 internally displaced people, the UNHCR says on its Web site.
The displaced people were forced from their villages in the past decade by attacks from the Lord's Resistance Army, which wants to create a democratic government in Uganda based on the 10 Commandments of the Bible.
Last week, an Africa Union summit in Kampala endorsed a declaration to end the forceful displacement of people in all of Africa.
Delegates to the poorly attended summit also pledged to aid refugees and internally displaced people by giving them vocational skills training so they can find work during and after their years of forced displacement.
Journalist Samson Ntale in Kampala, Uganda, contributed to this report.