HARARE, ZIMBABWE (CNN) -- Zimbabwe's highest court granted a permanent stay of prosecution Monday to a leading human rights activist facing charges of plotting to topple President Robert Mugabe's government.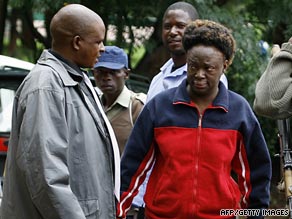 Human rights activist Jestina Mukoko arriving at a magistrate's court in Harare in December 2008.
The court said the abduction and torture in custody of Jestina Mukoko grossly violated her rights.
Mukoko, the leader of Zimbabwe Peace Project, challenged her prosecution in an appeal to the country's Supreme Court saying state security agents had abducted her from her home during a dawn raid and tortured her while holding her at secret locations for three weeks.
"The state, through its agents, violated the applicant's constitutional rights to the extent of entitling the applicant (Mukoko) a permanent stay of criminal prosecution," said Chief Justice Godfrey Chidyausiku as he delivered the ruling in a packed Supreme Court chamber, adding that he would give full details of the reasons for the ruling later.
Monday's ruling sets a precedent for other human rights and opposition activists who face similar charges and were subjected to the same conditions. They have applied to the same court to have their charges dropped but are awaiting rulings.
Mukoko broke into tears as journalists, friends and relatives mobbed her when she was leaving the court room.
Don't Miss
"I am so overwhelmed. I want to thank all my colleagues, in the region and internationally because they believed in me," she said. "Justice has just prevailed. I am so excited. Becoming a free person again in Zimbabwe.
"I did not have to go through what I went through. For a while I have been someone who was not free. I'm really going to enjoy this with my family. It did not make sense. I have never in my life done anything wrong, and for me to be referred to as a common criminal.... ah..." She then broke down before being whisked away by her relatives.
"I have no comment," said state prosecutor Fatima Maxwell.
But Mukoko's lawyer Harrison Nkomo said, "It is a good ruling for my client. I should congratulate the Supreme Court for capturing the law quiet clearly. She had not committed any offense.
"She would have been brought to court had the Attorney General's office applied its mind. The manner in which the state agents apprehended her show testimony to the fact that she had not done anything wrong."
E-mail to a friend

All About Zimbabwe • Robert Mugabe