Editor's note: Fareed Zakaria is an author and foreign affairs analyst who hosts "Fareed Zakaria: GPS" on CNN on Sundays at 1 and 5 p.m. ET.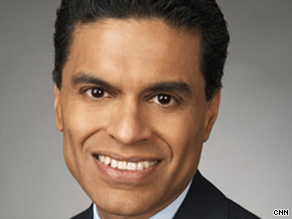 After his interview with Moammar Gadhafi, Fareed Zakaria says US should react to Libya's actions, not its words
NEW YORK (CNN) -- Lisa Gibson, who lost her brother in the 1988 Lockerbie bombing, sat down the other day with the man many blame for the notorious attack: Libyan leader Moammar Gadhafi.
"I welcomed him to America," Gibson told CNN.
The 39-year-old lawyer from Colorado Springs, Colorado, said she and another relative of a Lockerbie victim went to see the controversial figure in New York on Wednesday, the same day he delivered a rambling speech to the U.N. General Assembly.
Gadhafi mentioned this encounter during an interview for CNN's "Fareed Zakaria: GPS" show. The Libyan leader is reviled by many relatives of the victims of Pan Am Flight 103, which blew up in a terrorist attack over Lockerbie, Scotland, in December 1988.
In New York this week, demonstrators, including Libyan expatriates and relatives of victims, gathered near the United Nations to protest Gadhafi's appearance ahead of his speech.
Gadhafi stirred up anger recently when he permitted a large welcome for Abdelbeset Ali Mohmed al Megrahi, the Libyan convicted of the Pan Am bombing.
CNN spoke to Fareed Zakaria about Gadhafi's U.N. speech and his meeting with the relatives of the Lockerbie victims.
CNN: What did you think of Moammar Gadhafi's long and rambling speech at the United Nations?
"Fareed Zakaria: GPS"
See Fareed's interview with Libyan leader Moammar Gadhafi on this week's "GPS"
Sunday, 1 and 5 p.m. ET

Fareed Zakaria: Since this was his first visit to the United Nations, it appeared that he was releasing all the grievances and thoughts he'd had for the past 40 years. It was his opportunity to air his views at long last.
CNN: But it didn't seem to make much sense, did it?
Zakaria: Well, the world has changed a lot since he came to power. He came into power as a revolutionary leader in the style of Che Guevara, committed to a pan-Arab ideal that was anti-Western. That ideology has not served the Libyans as well as they had hoped.
There seems to be a shift occurring. I think this gets back to the basic decision Libya has made that it wants to try to get closer to the West. This is probably a decision being made by the next generation of Libyans.
Gadhafi has two sons -- both Western-educated, fluent in English, quite modern -- who perhaps want to see Libya integrated more into the global community, getting more foreign investment, and as a result are trying to chart a path back for a country that got into a self-imposed exile and cut itself off from the modern world for four decades.
This is different from the revolutionary Gadhafi of the 1970s.
CNN: If he hopes to move closer to the West, why did he greet al Megrahi as a hero on his release from prison?
Zakaria: I think it was a miscalculation on the part of the Libyans. But I think there are nuances to the decision. First, I don't think they realized how the release and welcome would be perceived in the West. Second, as I mentioned earlier, there are tensions between the new generation, who want to strengthen ties with the West, and the older generation's anti-West sentiment.
A few decades ago, giving al Megrahi a huge welcome is what you would do to show your anti-West credentials. Times have changed, however, and when it became apparent it was playing very badly, the government dialed back its response.
Gadhafi said it was not an official reception in any way, and his son Saif wrote an op-ed in The New York Times that there was no "hero's welcome" for Abdelbeset Ali Mohmed al Megrahi when he returned to Libya.

Watch Gadhafi on his meeting with relatives of Lockerbie bombing »
CNN: So how should the United States handle its relations with Libya?
Zakaria: It should depend on Libyan actions. If they act in a responsible manner and participate in the global community in a helpful way, yes, they should be rewarded. Stopping their WMD program in 2005 was a very big decision. If they hadn't done that, they would be another trouble-making regime like North Korea and Iran.
I commend President Bush for his administration's response to Libya after they halted their program. It was the right thing to do.
CNN: But what about the victims of the Lockerbie bombing?
Zakaria: Emotionally, I am sure it is a very difficult thing for the families, and I don't want to discount that.
Libya has paid $1.5 billion for U.S. victims of Libyan-linked terrorism in the 1980s. For many Americans, the payments are an indication of guilt. However, when I asked Moammar Gadhafi that question while he was in New York, he didn't accept the claim that Libya was responsible for the attack: "There is something that should be clear here, that Libya did not accept the criminal responsibility, Libya accepted the civil responsibility towards what made for the actions of one of its own citizens."
I think his hopes were that the payments would enable him to move on to better relations with the West.
In our interview, he also mentioned he had met with the families of the victims of the Lockerbie bombing. He said the bombing was "a tragedy. It is a catastrophe."
He said he expressed his condolences for their loss, and he said they expressed condolences for the loss of his daughter in an attack in 1986. He also spoke out against all actions of terrorism: "No one will support an action like that, will not be touched and moved by such a tragedy."

CNN: Do you buy all that?
Zakaria: Not entirely. You are dealing with an old man who has been in power for many years. He may be sincere or he may not. He may be calling the shots or his sons may be. I think we have to let Libyan actions be the barometer of their intent. I hope you will watch the interview with Moammar Gadhafi this weekend on GPS and send me your thoughts on whether he is sincere or not.
E-mail to a friend

All About Moammar Gadhafi • Lockerbie