(CNN) -- Standing 6 feet 3 inches (1.9 meters) tall and with a shaved head, fashion designer Ozwald Boateng often cuts a dash as much as his tailored suits.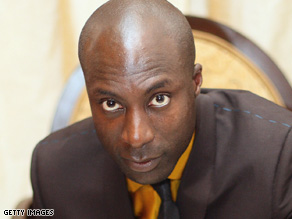 Boateng's eponymous fashion lable has been worn by Hollywood's A-list celebrities.
He's married to a former model and his suits have been worn by Hollywood A-listers on Oscars night. Yet he remains in touch with his North London roots where he grew up, and to Ghana, his parents' homeland.
"They taught me the value systems," Boateng told CNN. "We have a very strong culture, people tend to like to intellectualize about everything, so we have a lot of red tape, we talk a lot but not a lot gets done. I'd like to see a lot more get done, but most importantly the people are good people."
In 1997 Boateng became the youngest tailor and the first black designer to have a shop on London's exclusive men's tailoring street, Savile Row. In 2003 he was made creative director of men's wear for Givenchy.
While he deals in a world with high-end clients and celebrities, he is committed to setting a good example to young people on how to be a successful business person and to improving the lives of people in Africa.
Don't Miss
Using his business acumen and passion for Africa, he set up the Made in Africa Trust in 2006 to help promote self-sufficiency and new businesses in countries across the continent.
"It's not easy because you're still dealing with infrastructure and sometimes governments are not that ready for new ways of thinking. But the thing is, it is changing and what you have to bear in mind is there are 53 countries in Africa so you know, we're not saying you've got all 53 right (on the) first hit, but I think you could probably get 20 right," he said.
His love of designing will always remain, he says, as will helping people across Africa to tailor their own lives for the better.

"This is what I love, designing clothes and creating, that is just me. The whole mission for Africa is out of frustration and need. It is just not moving enough. I'm frustrated getting off a plane. I don't want to see open drains, I don't want to see a road that takes 10 years to build, I want to be able to go there and open one of my stores."
Watch Ozwald Boateng on CNN International on Saturday, August 22, 12.30, 21.30 GMT and Sunday, August 23, 18.00 GMT.
E-mail to a friend