By Christian Purefoy
CNN





LAGOS, Nigeria (CNN) -- Nigeria's Central Bank governor has injected more than $2.5 billion into five Nigerian banks and fired their managing directors and has vowed to hold bank officers to high professional and ethical standards.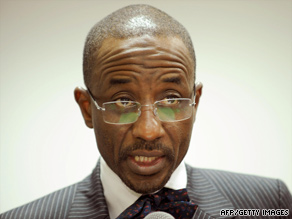 Central Bank Governor Lamido Sanusi says progress must be made in diversifying Nigeria's economy.
"We discovered huge amounts of bad loans that had not been disclosed," Lamido Sanusi, the Central Bank governor, said Monday, three days after he ordered the changes. "And decided that at this point in time, the banks are in a grave situation."
Last year, as banks around the world needed government support to survive the global financial crisis, Nigerian banks with little exposure to international credit markets appeared sheltered.
After changes to banking laws and consolidation in 2006, Nigerian banks had been among some of the fastest growing in the world, two of them ranked among the world's top 400.
But they were living in a bubble.
"The Nigerian stock market lost about 70 percent of its value from the peak after the crisis and oil prices crashed from around $170 a barrel to under $40 a barrel," Sanusi said.

Watch Central Bank Governor discuss banks »
"So the banks that had huge exposures to the capital market in the form of loans to stockbrokers and investments and proprietary trading positions lost a lot of value."
Nigeria depends on oil exports for 95 percent of its foreign exchange earnings, and the impact of the fall in oil prices has been exacerbated by the work of armed groups in the oil-rich Niger Delta, who have cut Nigeria's oil output by about a third.
"Until we resolve the Niger Delta issue, we will not be able to make the rapid progress we would like to make on diversifying the economy," Sanusi said.
But oil does not explain all of the country's financial woes.
"Some bankers have not been doing business professionally and ethically," Sanusi said. "And in the next few weeks we'll gather the evidence, and if we find any evidence that will put people in jail, we'll put people in jail."
The U.N. estimates that 90 percent of Nigerians live on less than $2 per day, and many Nigerians and economic analysts had hoped the banks would help pull its 150 million people out of poverty.
With the nationalization of five banks, there are now concerns that an independent private sector has been turned into a political commodity, a concern that Sanusi rejected.
"I don't think there's been any politicization of the institutions," he said. "All the banks play an important role in financing private-sector growth; last year, credit to the private sector exceeded government spending for the first time in the history of this country.
"So we'll save the banks."
Despite the banking crisis, insecurity in the oil-rich Niger Delta region, a rapidly declining manufacturing base and a national power grid unable to meet the demands of business -- providing only a few hours of electricity per day in most of the country -- Sanusi highlights the positive.
"I think the economy is healthy. We are growing. GDP is growing this year at over 5 percent in spite of all the problems."

Though 11 more banks are undergoing stress tests, Sanusi predicted that there will be no more drastic actions like the one he undertook last week.
"If I were an investor, I would say, this is the time to come; the stock market is at the bottom, the factories are down, and therefore assets are cheap. Anyone who's looking for a long-term investment knows that this is the time to come in."
E-mail to a friend

All About Nigeria