(CNN) -- Four aid workers and two pilots held captive in Somalia for nine months were released Tuesday.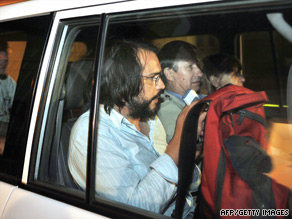 A car believed to carrying the former hostages leaves Nairobi's airport after their plane arrived from Somalia.
The workers from French aid group Action Against Hunger were in good health, the organization said.
"ACF wishes to thank the Somali communities and the authorities of the expatriates' countries of origin for their infallible support, as well as the hostages' families for the confidence they entrusted in us," the group said in a statement, using its French initials.
The workers were traveling in a convoy to an airport in Kenya in November when they were attacked in the central Somali town of Dhusa Mareb.
In July, three aid workers from Action Against Hunger also were kidnapped in northeastern Kenya and taken across the border into Somalia.
Don't Miss
The fate of those three was unclear
Many aid groups have ceased operations in Somalia because of the threat of kidnappings and attacks, but Action Against Hunger has remained.
The organization started in Somalia in 1992 and still has 164 staff members, according to its Web site.
E-mail to a friend