From Christian Purefoy
CNN





LAGOS, Nigeria (CNN) -- About 780 people killed in clashes with Islamic militants in the northeast Nigerian area of Maiduguri have been buried in mass graves, an aid official said Monday.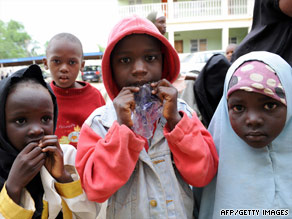 Children who hid in a police office while Islamic radicals took villagers hostage stand in Maiduguri.
The Red Cross urged an environmental agency to bury them as soon as possible because of the dangers of so many bodies being exposed to northern Nigeria's heat, said Mohammed Zannah Barma, secretary of the Red Cross in Borno state.
About 3,600 people were displaced in the attacks, Barma said, adding that almost all of them have been returned to their residencies.
The organization is working with malnourished children and women rescued from Boko Haram compound, according to Barma.
Boko Haram, an Islamist sect, wants the government to impose Islamic law, known as sharia, in the entire Muslim-dominated northern half of Nigeria.
Sharia is already practiced in some northern states, but the sect, which opposes Western education, wants even tougher religious laws.
Don't Miss
The southern half of Nigeria is predominantly Christian.
The week-long fighting comes amid attacks by the Muslim militants on police and government targets.
E-mail to a friend

All About Nigeria