(CNN) -- He rose to power on a wave of popular support, despite violent oppression. He has survived three assassination attempts, imprisonment, beatings and the tragic death of his wife. This week Morgan Tsvangirai, the Zimbabwean Prime Minister, speaks to CNN's African Voices.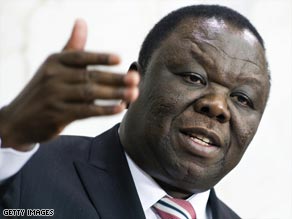 The world is waiting to see if Zimbabwe's power-sharing deal can succeed.
From working as a miner, Tsvangirai became a union leader before helping to form Zimbabwe's Movement for Democratic Change party (MDC) and becoming its leader in 1999.
Opposing President Robert Mugabe's ZANU-PF party he and his supporters have faced violence, intimidation and he was personally been charged with treason in 2003.
With the backdrop of the flawed elections of 2008, and after months of negotiations, he became prime minister in February 2009 agreeing to play a role in his arch-enemy Robert Mugabe's power-sharing government.
"It was not a personal decision; the circumstances that we were in was that our people were in a struggle. They had suffered so much, they were down on their knees," he told CNN.
"And so apart from that, strategically, we analysed that even ZANU-PF was not going to sustain itself without some form of negotiation. So I think that strategically, it was the correct decision. Although of course at that time we were reluctant for reasons of the past, who would trust President Mugabe?"
Earlier this year he also suffered personal tragedy when his wife was killed in a car accident. The death came as such as shock that many were suspicious of the circumstances of the crash.
"What I think is that there is nothing to think; it was an accident. As I stated at the time, I believe there was no ulterior motive, that I witnessed, I was there, I was part of that accident, I could easily have died in that accident," he said.

"But I think it came with a backdrop that has characterized out political relations over the last thirty years. That people have died, in unexplained circumstances, and therefore I think that the first suspicion was that could equally be the same."
Watch the show this week on CNN and here on CNN.com.
E-mail to a friend