(CNN) -- It was a day to remember for 12 lucky young New Yorkers. As part of a series of activities ahead of Mandela Day on July 18, 12 high school students won a competition that required them to submit creative projects on Nelson Mandela's life and legacy. The prize? A trip to South Africa to meet the man himself.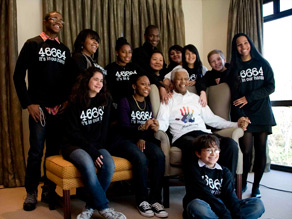 12 New York high school students meet Nelson Mandela in South Africa
The competition was organized by 46664, Mandela's global HIV/AIDS awareness group named after his prison number when he was held captive on Robben Island in the 1970's and 80's.
The four-day visit saw the students meet winners of a similar competition held in South Africa, where the groups discussed Mandela's legacy and his relevance to the youth of today in the challenges they face.
The students wrote a blog during the visit. Jasmin Suarez from South Bronx wrote that her "knees were shaking" as she went into the former South African leader's office, but that "I saw Nelson Mandela and I felt this immense welcome. He kept holding my hand throughout the short two minutes I stayed with him."

See more photos of students with Mandela »
46664 is spearheading the launch of Mandela Day, and is calling people around the world to support the creation of an official Mandela Day, to be held annually on July 18 -- Mandela's birthday. They hope it will serve as a global call to action for people to recognize their individual power to make an imprint and help change the world around them for the better.
In recognition of the 67 years of his life Mandela has given to the struggle for human rights and social justice, they are encouraging everyone to devote 67 minutes of their time on that day to do something positive to improve the lives of others.

The students return to New York as youth ambassadors for the Mandela Day project. Achmat Dangor, CEO of the Nelson Mandela Foundation, said: "The students will return to their schools and communities as 46664 youth ambassadors promoting the spirit of Mandela Day in their own communities, and will encourage their peers to adopt the principles of the Mandela Day Student Charter."
But perhaps Allen Salama, another of the New York students, put it more succinctly in his blog when he wrote: "I think I speak on behalf of all the students when I say, this has been the greatest moment of my life."
E-mail to a friend