(CNN) -- A Sudanese rebel commander, accused of being involved in the 2007 deaths of a dozen peacekeepers in Darfur, voluntarily arrived in the Netherlands Sunday for an International Criminal Court hearing at the Hague this week, officials said.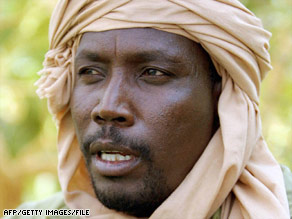 Sudanese rebel commander Bahar Idriss Abu Garda was summoned to appear before the ICC.
Bahr Idriss Abu Garda, of the Zaghawa tribe of Sudan, is charged with three war crimes allegedly committed on September 29, 2007, when 1000 rebel-led soldiers surrounded and stormed an African Union peacekeeping base in Haskanita, in North Darfur, the international court said.
Twelve peacekeepers were killed and eight were wounded in the overnight attack, the deadliest single attack on AU peacekeepers since they began their mission in late 2004.
Abu Garda, who faces charges of murder, directing attacks on peacekeepers and pillaging, was summoned to appear at the pretrial hearing at 3 p.m. Monday.
The court confirmed Abu Garda voluntarily arrived at the Hague Sunday afternoon on a commercial plane, and that no arrest warrant was necessary. The court has put a gag order on Abu Garda to prevent him from speaking publicly about his case.
Don't Miss
Three other suspects, including Sudanese President Omar al-Bashir, were also summoned, but remain at large.
"The voluntary appearance of Abu Garda might serve to encourage other suspects currently at large to come before the Court to be heard with all guarantees of a fair trial," said Silvana Arbia, registrar of the international court.
The attack on the AU peacekeepers came months before the 7,000-strong force was replaced by a U.N. peacekeeping force of 26,000 troops. The U.N. force, known as UNAMID, is a joint operation between the United Nations and the African Union. It took over formally at the end of 2007.
The conflict in Darfur began in 2003 after rebels in the western region of Sudan began attacking government positions. Sudan's government responded with a fierce military campaign that led to some 200,000 deaths and forced 2 million people to flee their homes, according to the United Nations.
E-mail to a friend

All About International Criminal Court • The Hague • Darfur • Sudan