From David McKenzie
CNN





NAIROBI, Kenya (CNN) -- One of Kenya's most famous white aristocrats will be sentenced Thursday, after a judge found him guilty of manslaughter for fatally shooting a poaching suspect on his family estate.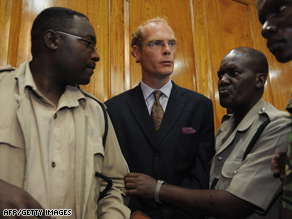 Thomas Cholmondeley, 40, is led into the courtroom in Nairobi, Kenya.
The case highlights the fractious relationship the country has with its British colonial past, with many Kenyans accusing the government of favorable treatment.
The defendant is white; the victim is black.
Thomas Cholmondeley, 40, was initially charged with murder in the May 2006 killing.
Two civilian lay assessors found him not guilty, but a judge dismissed their findings. He reduced the charge to manslaughter and convicted Cholmondeley.
The conviction can yield a life sentence. But there is no minimum sentence, allowing the judge discretion to let Cholmondeley go immediately.
Cholmondeley was charged with shooting Robert Njoya, a stonemason. Njoya was on Cholmondeley's expansive Rift valley ranch and wildlife sanctuary with two others and a pack of dogs.
Cholmondeley, suspecting Njoya of poaching, fired his rifle and killed him.
"I find that there is no evidence that the accused acted with malice aforethought," Judge Muga Apondi said. He added that the defendant tried to render first aid to Njoya after the shooting.
Cholmondeley spent three years in a maximum-security prison while the case was beset by delays and controversy.
Fueling public anger was another incident, in which Cholmondeley was accused of shooting a game ranger who was out of uniform. That case was dropped because of a lack of evidence.
Cholmondeley comes from a prominent British family that includes the third Baron Delamare, who came to Kenya at the turn of the 20th century and became one of the country's most prominent white settlers.
The Eton-educated Cholmondeley has transformed his Soysambu Ranch into a wildlife sanctuary and tourist attraction. He also has started a number of notable businesses in the region.
Most of Kenya's white settlers left after the country's independence in 1963.
Many of those who stayed took Kenyan citizenship. Though they represent a tiny fraction of the landowners in Kenya, some Kenyans resent their ownership of property.
E-mail to a friend

All About Kenya