By Richard Branson
Special to CNN





Editor's note: Entrepreneur Richard Branson founded a mail-order record retailer in England in 1970 that grew into the Virgin Group of about 200 companies in over 30 countries.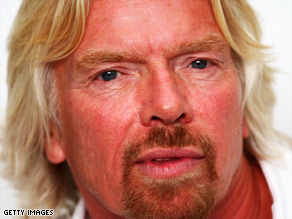 Richard Branson says the expulsion of aid workers from Darfur puts a million people at risk.
(CNN) -- Three days ago, I took over from Mia Farrow on a water-only fast to support her efforts to raise awareness about the ongoing tragedy in Darfur.
We are fasting to get people from all over the world to demand that our leaders pressure the Sudanese government to reinstate the aid agencies recently kicked out of Darfur. This cruel gesture has left over 1 million people in Darfur at risk of starvation and disease. We must not allow this to happen.
After only three days without food, my body already feels weakened. I can't even imagine what it must be like for many people in Darfur who have no choice but to go without food for weeks.
I'm doing what I can to help raise the volume on this issue, but certainly the voices of those who are suffering are far more powerful than mine. Over a year and a half ago, I traveled to Darfur and was horrified by the stories that people of all ages shared with us. Young children had watched their entire families get killed and then had to survive on their own in unimaginable conditions.
I can't speak from my own knowledge about how grim life in Darfur is today, but here, in their own words, are two stories from Darfuri refugees in the United Kingdom:
"My brother, my grandfather and my uncle were killed when our village Shaureli was attacked. Antonovs [aircraft] attacked the whole area. Helicopters attacked the same area the next day. I was outside the village when the attack started. I could see the village burning, people running away. I went into the village and saw aftermath of the attack. Janjaweed [militia] and soldiers had attacked on the ground. I saw many bodies. The whole village was destroyed.
"From Shaureli we fled to Anka. When the army and Janjaweed attacked Anka, they killed my wife in front of me. One of the Janjaweed wanted to rape her, and she refused. Then he said, 'You are a slave, how dare you refuse me?' Then he killed her.
Don't Miss
"I saw a lot of women raped in Anka, from the age of 10 through to the elderly. I saw a lot of people killed and injured. Leaders for Janjaweed in this area had been my school friends. I saw them raping and killing people in Anka.
"One of the Janjaweed, or a soldier, had a bayonet. He put it in my leg. They hit me in the head, and I lost consciousness. Sometimes, now, I faint. The doctor in England told me this is a result of my head injury.
"My parents, brothers and sisters are left behind in North Darfur. I have lost contact with them but I know they are in the camps. I am worried about them. With the aid agencies gone, I don't know how they will survive."
-- Haroun
"My wife and son were killed by the Janjaweed. My wife, Aisha, was 23. My son, Ali, was 1 year old. I only knew about it two days after it happened. I was out with the herds. The people who described the attack to me, I don't know if they are dead or in camps now. Everything has changed since then.
"In our village, Bera, in early July 2003, I was there when the attack happened. First helicopters came, then people on horseback, using RPGs [rocket-propelled grenades] and rifles, wearing camouflage. They were people who didn't belong to that area -- I had never seen them before. I won't forget some of their faces. I was with the people who were being killed. They were being shot. I saw 30 or 40 dying in front of me. I was shot in the right shoulder and fell. Then I was struck in the head with a fas [a farming implement similar to a hoe]. Then I was shot in the leg.
"The head injury left me partially paralyzed down the right side of my body. It also destroyed my ability to understand language. For three weeks I could say nothing. Then I had to completely re-learn how to speak.
"My mother, my brother, my aunt and several of my relatives are still there in Darfur. They are among the displaced in North and West Darfur. I worry about them every day.
"There used to be aid organizations there, but the government told them to leave. I managed to communicate with one of my relatives a few weeks ago, but things are bad for them. No one is giving them any food. All their animals are gone. It's really hard. They don't know how they will survive."
-- Ahmed Dilli Osman
I hope that after reading these stories, you will go to fastdarfur.org and learn more. After me, U.S. Rep. Donald M. Payne, D-New Jersey, is continuing the fast. It is our collective hope that citizens everywhere will recognize the urgent need to turn up the volume as loud as it can go to get the aid agencies reinstated and work towards bringing peace to the people of Darfur.
The opinions expressed in this commentary are solely those of Richard Branson.
E-mail to a friend

All About Darfur • War and Conflict • United Kingdom