JOHANNESBURG, South Africa (CNN) -- The African National Congress secured an expected landslide victory in this week's South African general elections, paving the way for party leader Jacob Zuma to become president, according to official results released Saturday.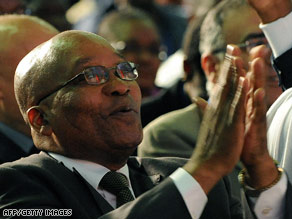 South Africa's president-in-waiting Jacob Zuma celebrates his party's electoral victory in Pretoria on Saturday.
But the ANC, which has convincingly won every election since the end of apartheid in 1994, fell just short of retaining a two-thirds parliamentary majority that would have given it a mandate to change the constitution.
It also lost control of Western Cape province to the opposition Democratic Alliance, although it won comfortable majorities in South Africa's remaining eight provinces.
The ANC won 65.9 percent, or 11.6 million votes, according to results published on the Independent Electoral Commission's Web site. Despite performing strongly in Western Cape, the Democratic Alliance polled just 16.66 percent of the national vote.
The Congress of the People, formed by a breakaway faction of former ANC members loyal to ex-President Thabo Mbeki, polled 7.42 percent.
"The people have spoken," Zuma said in a statement on the ANC's Web site.

See images of the voting »
"They have gone out in their millions, in peace and calm, to freely vote for a party of their choice. They have voted for a better future for all, for decent work, quality education, access to health care, safer communities and rural development.
"Now we must get down to work to implement this mandate for faster change. Working together we will build a South Africa of expanding opportunity for all, a nation united in its diversity, at peace with itself and the world."
Twenty-six parties ran in Wednesday's election. They included Islamic and Christian parties, and right-wing Afrikaner and socialist groups. Learn more about some of South Africa's political parties
The ANC's overall victory had been considered a foregone conclusion and party leaders and supporters have been celebrating since Thursday in anticipation of the results.
Zuma, an ethnic Zulu whose flamboyant style contrasts with that of his staid predecessors Nelson Mandela and Mbeki, will be elected to the presidency when lawmakers convene to form a new parliament next month.
The ANC has been dogged by allegations of corruption and has been accused of failing to deliver services to the poor.
Until recently, Zuma faced fraud and corruption charges. The country's prosecuting authority dropped the charges two weeks before the elections, citing alleged political interference in the case. More than 5,000 domestic and international observers are monitoring the election, according to the electoral commission. iReporter visits the polls

A self-described "farm boy" known to don traditional garb -- including leopard skins and a spear -- at ceremonial events, Zuma, 67, would put a different face on the party than Mandela, the attorney imprisoned under segregationist apartheid rule, and the Western-educated Mbeki.
On Thursday, as thousands cheered and fireworks exploded overhead, Zuma danced and sang his favorite song -- a Zulu anti-apartheid anthem called "Bring Me My Machine Gun."
E-mail to a friend

CNN's Nkepile Mabuse contributed to this report.
All About South Africa • Politics • African Politics