(CNN) -- Sudanese President Omar al-Bashir is on a state visit to neighboring Ethiopia despite being wanted for war crimes charges for his government's crackdown in Darfur.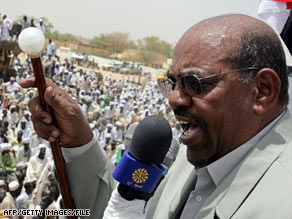 Sudanese President Omar al-Bashir has dismissed war crimes charges as a Western attempt to recolonize Sudan.
Al-Bashir met Tuesday with the Ethiopian foreign minister in the capital, Addis Ababa, Ethiopia's information ministry said. A ministry representative described the meeting as "routine."
The International Criminal Court issued an arrest warrant for al-Bashir on March 4, the first for a sitting head of state by the world's only permanent war crimes tribunal, based at The Hague, the Netherlands.
The ICC accuses al-Bashir of complicity in war crimes and crimes against humanity in his government's campaign against rebels in Darfur in western Sudan. The United Nations estimates that 300,000 people have been killed and 2.5 million have been forced to flee their homes because of the conflict.
But the ICC has no arrest powers and depends on its 106 member states to take suspects into custody. Ethiopia, which isn't a member of the tribunal, has condemned the ICC's decision as "not in the interest of peace."
Sudan refuses to recognize the legitimacy of the ICC and has made no efforts to hand over two other officials indicted by the court. Al-Bashir has called the charges an attempt by Western powers to recolonize Sudan.
It is not the first state visit for the Sudanese president. About a month after the arrest warrant was issued, al-Bashir attended the Arab League Summit in Qatar.
U.N. Secretary-General Ban Ki-moon also attended the meeting but avoided any confrontation with al-Bashir. The U.N. leader focused instead on efforts to have humanitarian aid workers allowed back into Sudan.
Sudan expelled 13 international aid agencies from the Darfur region after the ICC issued the arrest warrant.
E-mail to a friend

All About Sudan • Darfur • Omar al-Bashir • War Crimes