(CNN) -- The French Navy captured 11 suspected pirates off the coast of Kenya Wednesday, the French Ministry of Defense announced.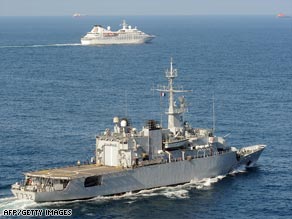 The French frigate Nivose, pictured last year patrolling the Gulf of Aden.
The Navy tracked the pirates overnight after they attacked a ship called the Safmarine Asia. The French launched a helicopter from the frigate Nivose to head off the attack Tuesday night, then seized the suspected pirates Wednesday morning, the statement said.
Both the European Union and the United States have been patrolling the region since an upsurge in piracy off the coast of Somalia last year.
U.S. snipers killed three pirates holding a U.S. ship captain hostage Sunday. The captain, Richard Phillips, was held in a lifeboat for days after his ship, the Maersk Alabama, was seized last week.

But pirates in Somalia vowed revenge, saying that an attack on another ship, the Liberty Sun, was a response to the killing of Phillips' captors.


See an interactive map of 2009 pirate attacks off the Horn of Africa »
"It was a revenge," Hassan Mohamud told a Somali journalist. "The U.S. ship escaped by a matter of chance."
E-mail to a friend