MOMBASA, Kenya (CNN) -- The crew of the Maersk Alabama is returning to the United States, and its captain will soon follow, a company spokesman said Wednesday.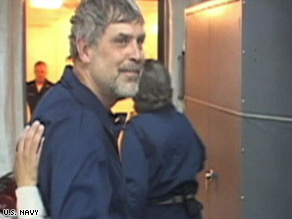 Cargo ship Capt. Richard Phillips is shown aboard the USS Boxer shortly after his rescue Sunday.
The crew members were scheduled to arrive at Andrews Air Force base about 11:30 p.m., a spokesman for Maersk Line Limited said.
The ship's captain, Richard Phillips, will take a later flight.
He was delayed because the ship that rescued him, the guided missile destroyer USS Bainbridge, had to aid in an unrelated incident involving an unsuccessful pirate attack.
The captain and crew had been expected to reunite in Mombasa and return to the United States together, but their plans changed because of the other hijacking attempt.
Last week, Somali pirates attacked the U.S.-flagged Maersk Alabama. The pirates seized Phillips and held him hostage on a lifeboat after their failed attempt to hijack his ship.

U.S. Navy snipers fatally shot three pirates and rescued Phillips on Sunday. U.S. authorities arrested a fourth pirate .
The Maersk crew members, who regained control of the cargo ship from the pirates, went to relax at a beach resort in Mombasa under the watchful eyes of the Kenyan military.
E-mail to a friend

All About Pirates • Somalia • Kenya • U.S. Navy Activities