MOMBASA, Kenya (CNN) -- The first officer of the freed Maersk Alabama called on the world Monday to "wake up" to the dangers of piracy.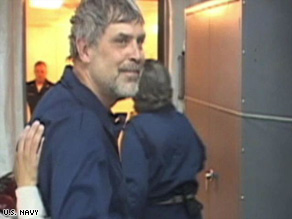 Cargo ship Capt. Richard Phillips is shown aboard the USS Boxer shortly after his rescue Sunday.
Shane Murphy spoke less than 24 hours after the U.S. military killed three pirates who had been holding the captain of the U.S.-flagged Maersk Alabama hostage on a lifeboat. Snipers shot the pirates and rescued Capt. Richard Phillips.
"We would like to implore President Obama to use all of his resources and increase the commitment to ending this Somali pirate scourge," the first officer said Monday at a news conference in Mombasa, Kenya. "Right now there are ships being taken. At sea, it's a global community. It doesn't come down to nations."
Murphy added, "America has to be at the forefront of this. It's time for us to step in and end this crisis. It's a crisis. Wake up. This crew is lucky to be out of this with every one of us alive. We're not going to be that lucky again."
Navy snipers shot the pirates after seeing that one of them "had an AK-47 leveled at the captain's back," a military official said Sunday.
The three pirates were killed and the captain was rescued uninjured, Navy Vice Adm. Bill Gortney told reporters Sunday.
Phillips -- who had been held hostage since the pirates attacked the Maersk Alabama on Wednesday -- was "resting comfortably" on the USS Boxer after his rescue on Sunday night, according to the Navy.
"I just got off the phone with our captain, Richard Phillips," Murphy said at Monday's news conference. "It was an extremely emotional experience for all of us to hear his voice and to hear the condition that he was in.
Don't Miss
"He's absolutely elated and he couldn't be prouder of us for doing what he trained us to do."
Phillips contacted his family and received a routine medical exam after his rescue Sunday evening, the Navy Central Command said. Video from aboard the Boxer showed a smiling Phillips shaking hands with Navy personnel.
"The captain is in good health. He's showered up and in a clean set of clothes," Gortney said in a telephone news conference Sunday from Navy Central Command in Bahrain.
In Phillips' hometown of Underhill, Vermont, Maersk spokeswoman Alison McColl, speaking on behalf of the captain's family, said Phillips' wife, Andrea, had spoken to her husband by phone after his rescue.
"She was laughing while she was on the phone with him," McColl told reporters. "She was saying his trademark sense of humor was still very much intact, and he's in great spirits. If you guys could have seen her light up when she talked to him, it was really remarkable."
U.S. forces moved to rescue Phillips as a fourth pirate was negotiating Phillips' fate aboard the nearby USS Bainbridge.
Federal prosecutors are "reviewing the evidence and other issues" to determine whether that pirate will be prosecuted in the United States, said Justice Department spokesman Dean Boyd said.
It's the first time in modern history that the United States has in custody a pirate who carried out an attack on a U.S. citizen, said a senior U.S. official with knowledge of the situation. The source said figuring out what to do with the pirate is a sensitive issue.
Maersk Line Limited President and CEO John Reinhart on Sunday called Phillips "a leader of men, a brave and courageous man."
He said he had spoken with Phillips, and said the captain, is "feeling quite good."
Phillips had tried to escape his captors earlier, but was recaptured by the pirates without injury, Gortney said.
"They had shot at him (Thursday) when he attempted to escape," he said. "They actually shot in the water at him."
Phillips and his family, through Reinhart, expressed gratitude to the U.S. Navy, particularly the SEALs.
"I actually was more concerned for his family," Adm. Rick Gurnon, head of the Massachusetts Maritime Academy, where Phillips had trained, said Sunday. "As a captain in sea, in a lifeboat, he was comfortable -- even if he was sharing it with Somali pirates."
Gurnon stressed that although Phillips' story had a happy ending, more than 200 mariners remain captives at sea.
"The pirates have a great business model that works for them: See ships, take ransom, make millions," he told reporters.
At the White House, President Barack Obama issued a statement Sunday, saying, "I am very pleased that Captain Phillips has been rescued and is safely on board the USS Boxer. His safety has been our principal concern, and I know this is a welcome relief to his family and his crew."
"We remain resolved to halt the rise of piracy in this region. To achieve that goal, we must continue to work with our partners to prevent future attacks, be prepared to interdict acts of piracy and ensure that those who commit acts of piracy are held accountable for their crimes."
Obama had given standing orders for the military to take "decisive action" if Phillips was in imminent danger, Gortney said.

Phillips offered himself as a hostage after the pirates stormed the Alabama on Wednesday morning, according to Maersk. Phillips tried to escape by diving off the 28-foot, covered lifeboat Thursday night, but one of the pirates dove into the Indian Ocean to retrieve him.
Gortney said the Alabama had reported being harassed by pirates the day before the pirates' successful attack on Wednesday. When the Alabama crew made the call, "our closest vessel from all the navies that were out there -- we have 16 navies that are patrolling those waters -- and the closest one was the USS Bainbridge, and it was over 300 nautical miles," he said.
E-mail to a friend

--CNN's David McKenzie, Zain Verjee, Barbara Starr, Kate Bolduan, Carol Cratty and Mike Mount contributed to this report.
All About Pirates • U.S. Navy SEALs • Somalia • U.S. Navy Activities