By Evan Buxbaum
CNN





UNITED NATIONS (CNN) -- The 15th anniversary of the genocide in Rwanda brought American U.N. Ambassador Susan Rice to tears as she reflected on her personal memories surrounding the slaughter.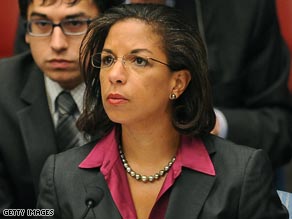 U.N. Ambassador Susan Rice recalls her time in Rwanda working for the Clinton administration.
Rice visited Rwanda as a staff member in former President Bill Clinton's National Security Council six months after the ethnic cleansing. She explained how even months after the violence she encountered decomposing bodies at one of the massacre sites.
"For me, the memory of stepping around and over those corpses will remain the most searing reminder imaginable of what our work here must aim to prevent," she said Tuesday at a special commemorative event at United Nations headquarters in New York.
She emotionally concluded her remarks, expressing how "We bow our heads to mark the memory of those who were slain. And we bow our heads to mark the sorrow of all who stood by."
The mass killings began on April 6, 1994, when tribal Hutu militia members attacked their tribal Tutsi countrymen after the plane of then-President Juvenal Habyarimana, a Hutu, was shot down. Within 100 days, some 800,000 people were murdered.
In addition to Rice, various dignitaries, ambassadors, artists, U.N. officials and genocide survivors gathered Tuesday to mark the tragic circumstances that began 15 years ago.
U.N. Secretary-General Ban Ki-moon reminded the audience how the Rwandan genocide continues to haunt "our collective conscience" and that "the prevention of genocide is a collective responsibility."
Ban encouraged the world community to remember its shared duty to prevent future catastrophes in the name of humanity and in honor of the memory of those who died. The United Nations created a Special Representative for the Prevention of Genocide and Mass Atrocities in 2004.
President Obama also released a statement coinciding with Tuesday's anniversary. Obama praised survivors for their remarkable strength, but emphasized the tragedy should always be remembered because each victim "had their own story, their own family, and their own dreams."
E-mail to a friend

All About United Nations • Rwanda