(CNN) -- The United States is moving to suspend all non-humanitarian aid to Madagascar because it considers this week's forced departure of its president "tantamount to a coup d'etat," State Department spokesman Robert Wood said Friday.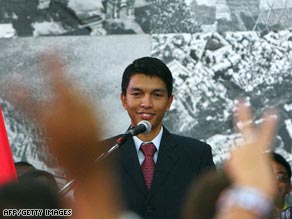 Andry Rajoelina took over after Marc Ravalomanana ceded power to the military.
Earlier in the day, the African Union announced it had suspended Madagascar's membership after its 15-member Peace and Security Council decided the transfer of government was unconstitutional, AU spokesman El Ghassim Wane told CNN.
"We ask the de facto authorities to return the country to constitutional rule, and should they fail to do so, the Peace and Security Council may incur sanctions," he said. Wane said the AU called the government handover "unacceptable and illegal."
Former President Marc Ravalomanana ceded power to the military on Tuesday, and the military handed over government control to Andry Rajoelina the following day, ending a two-month political crisis. Rajoelina is the former mayor of Antananarivo.
Don't Miss
Analysts said he likely had little choice but to step down once he lost much of the army's support.

Watch more on president's resignation »
"The United States condemns the process through which Marc Ravalomanana was forced to resign as president of the Republic of Madagascar -- and Andre Rajoelina was subsequently installed as the de facto head of state -- as undemocratic and contrary to the rule of law," Wood said at a news conference.
"The series of events is tantamount to a coup d'etat, and the United States will not maintain our current assistance partnership with Madagascar," he added.

Madagascar's high court confirmed Rajoelina, and he is expected to be inaugurated Saturday.
On Thursday, the Southern African Development Community group, meeting in Swaziland, "completely rejected the legitimacy" of Rajoelina, the regional organization's executive secretary, Tomaz Salomao, told CNN.
E-mail to a friend

CNN Correspondent David McKenzie contributed to this report.
All About Madagascar