LUANDA, Angola (CNN) -- Pope Benedict XVI arrived in Angola on Friday as part of his week-long visit to Africa, a journey marked by the pontiff's controversial comments on reproductive issues and some of the continent's political regimes.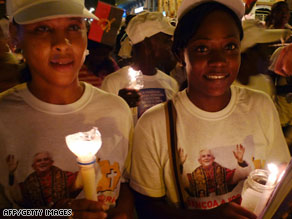 Pilgrims pray on the streets of Luanda on Friday as Pope Benedict XVI begins his visit in Angola.
In Angola, however, the Pontiff drew attention to the nation's lingering economic disparity despite having substantial diamond deposits and oil reserves that surpass Nigeria.
Standing beside President Eduardo dos Santos in Luanda, Pope Benedict XVI said Angola should make better use of its riches to attain "peace and understanding" among its people.
"Unfortunately, within the borders of Angola, there are still many poor people demanding that their rights be respected," said the pope.
"The multitude of Angolans who live below the threshold of absolute poverty must not be forgotten," he said.
In the dusty streets of Luanda, thousands of effusive well-wishers cheered as the pope rode through the political capital, ruled by the Marxist MPLA party of dos Santos.
One of Africa's longest ruling leaders, Dos Santos has been criticized by human rights groups for silencing the media and failing to share the nation's riches.
Angola has, however, taken small steps towards democracy after a brutal, 27-year civil war, which pitted the United States-backed UNITA forces against the Cuba-backed MPLA guerrillas in a historic cold war dispute that killed millions and turned Angola into a nation littered with unexploded ordinances and landmines.
Recently, Dos Santos announced the country's first presidential election to take place in later this year.
Last year, Angola held its first parliamentary elections in 16 years, bringing a resounding victory to the incumbent MPLA, in power since 1975.
Critics, such as Human Rights Watch claim the election was fraught with inadequacies and failed to meet international standards.
The pope's first visit to Angola shed light on some of the country's economic and political contradictions.
Angola -- Africa's oil and diamond giant -- is also of the world's poorest, with one of Africa's highest mortality rates.
Although warring factions have laid down arms, undetonated mines left from the conflict still maim 300 to 400 people a year in the county, according to the United Nations.
Despite these lingering inconsistencies, Pope Benedict had an upbeat message to the war-torn nation.
Parading by Angola's national flag -- red and black with a variation of a hammer and a sickle -- he paid respect to thousands of fervent adepts in one of Africa's oldest Roman Catholic communities, a faith once imposed by its Portuguese colonizers who were brutally ejected in 1972 during the independence war.
The pope referred to his native country's own history -- Germany's demise in World War II and the fracture that led to the creation of West and East Germany -- to tell Angolans that civil rife is something Europeans know well.

"I come from a nation where peace and fraternity are dear to all, particularly to people like me who knew the war and the separation between brethren who belonged to the same nation, caused by devastating and inhumane ideologies.
"So understand, for this reason, how sensitive I am to the dialogue between mankind. "
E-mail to a friend

Helena de Moura contributed to this report for CNN
All About Angola • Africa • Poverty • Pope Benedict XVI