(CNN) -- Four abducted medical workers abducted in Sudan's Darfur region earlier this week appeared Saturday on Sudanese TV after their release.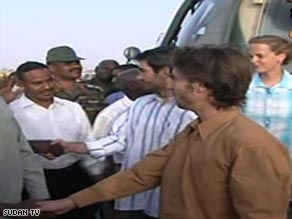 Members of the humanitarian group Medecins San Frontieres are greeted at airport after their release.
All four -- an Italian doctor, a Canadian nurse, a French coordinator and a Sudanese guard -- work for the Belgian section of the humanitarian organization Medecins Sans Frontieres.
Sudan last week ordered 13 major aid groups to leave the country after the International Criminal Court issued an arrest warrant for President Omar Hassan al-Bashir, accusing him of war crimes and crimes against humanity.
Two of MSF's sections working in Darfur -- one run by the Dutch and one run by the French -- were among those ordered out.
MSF, also known as Doctors Without Borders, helps people "threatened by violence, neglect, or catastrophe" in more than 60 countries.
Don't Miss
The United Nations on Wednesday announced the start of a joint U.N.-Sudanese government mission "to evaluate the need for food, water, health and emergency shelter in Darfur" amid the expulsions of the groups, which are believed to have assisted about 4.7 million people.
The United Nations estimates that 300,000 people have died in Darfur, where government forces and Arab militia allies have been fighting rebels.
People have died "either through direct combat or because of disease, malnutrition or reduced life expectancy." About 3 million people have been displaced since 2003, the U.N. says.
E-mail to a friend