(CNN) -- A top opposition politician in Zimbabwe was released on bail Thursday after spending almost a month in prison.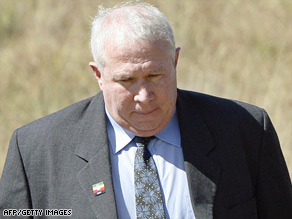 Roy Bennett is a white farmer and an ardent critic of President Robert Mugabe's policies.
Roy Bennett walked out the prison in the city of Mutare, about 300 km (186 miles) from the capital, Harare, a day after the country's Supreme Court ordered authorities to release him on bail.
Bail was set at U.S. $5,000. As part of the conditions of his release, Bennett, the treasurer for opposition party Movement for Democratic Change, must report three times a week to Harare police, the MDC said. He has also surrendered to the court his travel documents and title deeds to his property, the party said.
Authorities arrested him on February 13 -- just before he was to be sworn in as deputy agriculture minister in the new power-sharing government -- on charges of possessing weapons for sabotage, banditry and terrorism. Initially, he was charged with treason.
The MDC said thousands of singing and dancing supporters greeted Bennett outside of the prison.
He was in "high spirits" and waved and shook hands with people, the MDC said.
"The charges are absolutely preposterous and ridiculous," Bennett said. "There's no substance in the charges and I've no doubt in my mind that a court will dismiss them."
Don't Miss
He described conditions in the prison as dire. "It's a human rights tragedy taking place inside the prisons of Zimbabwe," he said. "It's one of total poverty and disgusting. ... Those people who don't have friends and relatives to bring them food daily are basically dying."
"Ladies and gentlemen, it's been a harrowing experience," he added. "I don't wish it on my worst enemy."
Last month, a High Court judge ordered Bennett released on bail, saying it was "in the interest of justice."
The state lost an appeal to reverse the decision in High Court, and then appealed to the country's Supreme Court.
The prosecutors contended that Bennett was not a good candidate for bail, saying he may be a flight risk.
Bennett is a white farmer and an ardent critic of President Robert Mugabe's policies.
E-mail to a friend

All About Zimbabwe • Robert Mugabe • Morgan Tsvangirai