HARARE, Zimbabwe (CNN) -- A Zimbabwe Supreme Court judge will decide Thursday whether the state should be allowed to further appeal a decision that would let a top opposition politician out on bail.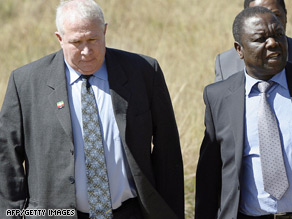 Roy Bennett, left, pictured with Prime Minister and MDC leader Morgan Tzvangirai
Judge Paddington Garwe will decide on the state bid to overturn a lower court's ruling concerning Roy Bennett, the opposition's choice to be deputy agriculture minister in the new power-sharing government.
"The judge will make his ruling tomorrow, but has asked us to make more submissions," said state counsel Chris Mutangadura.
Bennett, 52, was arrested February 13. He faces charges of possessing weapons for sabotage, banditry and terrorism. He also was initially charged with treason.
Bennett, a white farmer and an ardent critic of President Robert Mugabe's policies, is being held in Mutare, about 300 kilometers (186 miles) east of the capital, Harare.
Last week, Judge Tedious Karwi of Zimbabwe's High Court ordered Bennett released on bail, saying granting the $2,000 bail was "in the interest of justice."
Karwi upheld his decision on Tuesday, after the state appealed.
Trust Mahanda, one of Bennett's lawyers, said he paid his client's bail and complied with the other bail conditions.
"He ought to be free by now," said Beatrice Mtetwa, another lawyer for Bennett.

The state contends that Bennett is not a good candidate for bail, saying he may be a flight risk. Should the Supreme Court confirm the bail order, the state says it will ask the court to impose stringent bail conditions: raising the bail amount to $5,000 and requiring Bennett to report daily to police and surrender the title deeds to his property.
The state says it also will ask Prime Minister Morgan Tsvangirai, leader of the opposition Movement for Democratic Change, to provide title deeds to his property, as he has offered to stand as a surety.
E-mail to a friend

All About Zimbabwe • Robert Mugabe • Morgan Tsvangirai