(CNN) -- A Ukrainian cargo vessel laden with tanks and other weapons docked in Kenya on Thursday, nearly five months after pirates captured it.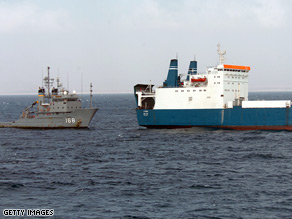 A U.S. Navy tug boat provides fuel and fresh water to the Faina earlier this month.
A Ukrainian government delegation headed by the country's foreign intelligence service chief, Mykola Malomuzh, greeted the MV Faina when it arrived at port, Russia's Interfax news agency reported.
The cargo belongs to Kenya, which purchased it under a contract with Ukraine, Kenyan and Ukrainian officials told Russia's Interfax news agency.
Somali pirates released the ship last week after receiving a ransom payment by parachute of $3.2 million. The pirates had held the Belize-flagged vessel since September 25 as it sailed to Mombasa.
U.S. and Kenyan navy ships escorted the MV Faina to Mombasa, Russian and Ukrainian news agencies reported.
On Wednesday night, a Ukrainian plane flew into Mombasa with a fresh crew for Faina that will take over the vessel and then deliver it back to its home port, they reported. The plane also brought doctors, representatives of arms export companies, the ship owner, as well as a group of Ukraininan journalists, according to Interfax.
The 20 freed crew members will be flown to the Ukrainian capital of Kiev on Friday, a spokeswoman for the Ukrainian president said. President Viktor Yushchenko has said he will go to the airport to greet the Faina's crew.
Don't Miss
The ship's captain, a Russian citizen, died soon after the ship was seized.
The American Forces Press Service reported none of the 20-member crew had been harmed.
After the ship was freed, the Navy released a photograph of the purported ransom being air-dropped onto the vessel.
"All indications we have are that ransom was indeed paid regarding the Faina. Our ships continue to wait on station to monitor the situation in the vicinity of the Faina vessel," said Nathan Christensen, a spokesman for U.S. Naval Forces Central Command.

It was not immediately clear whether all the weapons the ship was carrying remained on board.
Russian state-run television reported the pirates took an unknown number of grenade launchers as well as other ammunition with them, but CNN could not confirm the report.
E-mail to a friend

CNN's Maxim Tkachenko contributed to this story.
All About Pirates • Gulf of Aden • Somalia