(CNN) -- Somali pirates released a Ukrainian ship Thursday carrying tanks, ammunition and crew after receiving a ransom of $3.2 million, a spokesman for the ship's owner said.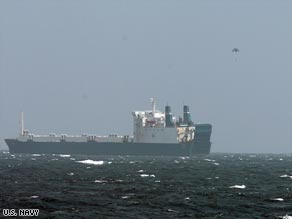 A parachute, believed to be carrying part of the ransom, drops near the Faina.
Mikhail Voitenko told CNN all the pirates had left the ship Thursday night, and a man who identified himself as one of the pirates who was involved in the hijacking also confirmed the pirates were no longer on the vessel.
Voitenko said his information was confirmed by the MV Faina's owner, Vadim Alperin, who authorized him to make a statement.
The pirates seized the ship in neutral waters near Kenya and Somalia in September. It had been headed to the Kenyan port of Mombasa after departing from Nikolayev, Ukraine, and was hijacked not far from its destination.
The U.S. Navy began monitoring the situation soon after the vessel was captured because of concerns about the dangers that the weapons on board could pose.
In a letter posted on the "Marine Bulletin" Web site, which is edited by Voitenko, Alperin said he, his representatives in various countries, and Ukrainian special services had been involved in "extremely tough" negotiations with the pirates.
"The release would've been impossible without the assistance from the Ukrainian government," Alperin wrote.
However, Alperin wrote, the government did not contribute to the ransom. "It rendered things that are much more valuable than money. It helped, thank God, with ... the knowledge, experience and talent of its intelligence officers," he wrote.
Don't Miss
Soon after the pirates left on Thursday night, U.S. sailors boarded the Faina to administer first aid, technical assistance and food and water to the crew, Voitenko said.
The American Forces Press Service reported none of the 20-member crew had been harmed.
On Friday, the ship will be refueled, and will head toward Mombasa under the escort of the U.S. Navy, Voitenko said.
After the ship was freed, the Navy released a photograph of the purported ransom being air-dropped onto the vessel.
"All indications we have are that ransom was indeed paid regarding the Faina. Our ships continue to wait on station to monitor the situation in the vicinity of the Faina vessel," said Nathan Christensen, a spokesman for U.S. Naval Forces Central Command.
It was not immediately clear whether all the weapons the ship was carrying remained on board.
Russian state-run television reported the pirates took an unknown number of grenade launchers as well as other ammunition with them, but CNN could not independently confirm the report.

The pirates seized the Ukrainian vessel on September 25, 2008. The Belize-flagged ship had been sailing to Kenya carrying a cargo of military hardware, including about 30 tanks, spare parts and armor. The crew comprised 17 Ukrainians, two Russians and one citizen of Latvia.
The captain, a Russian citizen, died soon after the ship was seized.
E-mail to a friend

CNN's Maxim Tkachenko contributed to this story
All About Pirates • Gulf of Aden • Somalia