(CNN) -- The European Union tightened sanctions on Zimbabwe's leadership on Monday, condemning President Robert Mugabe's government for its "ongoing failure to address the most basic economic and social needs of its people."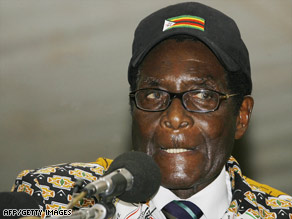 Zimbabwe President Robert Mugabe has accused Western powers of trying to drive him from power.
The EU's General Affairs Council extended its current restrictions on Mugabe and his top aides, in place since 2004. It also added more than 60 other "persons and entities that are actively associated with the violence or human rights infringements of the regime."
In a statement announcing the decision, the EU said the situation in Zimbabwe has sharply deteriorated in recent months. The country is now wracked by hyperinflation and a cholera epidemic that has killed more than 2,700 people and sickened nearly 50,000.
"The victims of this misrule are the Zimbabwean people," it said. "The Council condemns the regime for its ongoing failure to address the most basic economic and social needs of its people."
There was no immediate reaction from Mugabe's government to the declaration, but the 84-year-old leader has accused Western powers of trying to cripple his country's economy and drive him from power.
Britain, the former colonial power in Zimbabwe, said the moves will freeze assets and restrict travel for those added to the list "as a result of their involvement with human rights abuses and the provision of financial support for the Mugabe regime."
"We anticipate that these measures will cause significant financial and personal difficulties for those listed," Britain's Foreign Office said in a statement praising the decision. "They target Mugabe and his regime and associates alone. In the meantime, we and EU partners continue to provide humanitarian aid to the victims of Mugabe's neglect; the ordinary people of Zimbabwe."
The EU also urged Mugabe, who has led the south African country since independence in 1981, and opposition leader Morgan Tsvangirai to comply with the power-sharing agreement reached after last year's disputed presidential election.
Talks aimed at implementing the agreement broke off last week, with each side blaming the other for their failure. Tsvangirai has accused Mugabe of keeping the most powerful portfolios in the government for his ruling party, while Mugabe said the opposition's proposals differed from those laid out by the 15-nation Southern African Development Community, which has attempted to broker a resolution.
The power-sharing deal is expected to keep Zimbabwe's melting economy from a total collapse: Its official inflation rate of 231 million percent is the world's worst, and the United Nations estimates that 5 million people need urgent food aid.
E-mail to a friend

All About Cholera • Robert Mugabe • Morgan Tsvangirai