From Ben Brumfield
CNN





(CNN) -- The Congolese government is broadcasting messages to Rwandan rebels within its borders demanding they surrender, the Democratic Republic of Congo's communications minister told CNN on Sunday.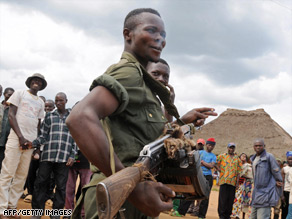 A Hutu rebel stands with villagers Sunday northwest of Goma.
"We would ... prefer a voluntary disarmament," Mende Omalanga said. "We are campaigning for them to put [down] their guns."
So far, about 160 of the estimated 6,500 Rwandan rebels in Congo's eastern regions have heeded the call and laid down their arms, he said.
Omalanga said the messages in the Rwandan language of Kinawanda are being broadcast in North Kivu region during the day and night. Rebels who surrender will have the choice of returning to Rwanda or staying in Congo as refugees, Omalanga said.
He stressed that no one will be forced to return to Rwanda, where the government is working with Congo in an unprecedented partnership to combat ethnic violence.
"It is part of our deal with Rwanda," Omalanga said. "They are happy with this program."
He said the rebels who have surrendered so far are "on their way to Goma," a regional capital in eastern Congo.
As part of the partnership, Rwandan authorities on Friday arrested Congolese rebel leader Laurent Nkunda, a member of the Tutsi ethnic group, raising hopes for peace in the war-ravaged region. International observers hope that Nkunda's arrest will lead the roughly 1,500 Tutsi fighters that follow him to join with government forces.
Don't Miss
Rwanda and the Democratic Republic of Congo have traditionally been on opposite sides of the conflict in eastern Congo -- which has pitted ethnic Tutsis, supported by Rwanda, against Congo-backed Hutus.
The fighting is a carry-over from the ethnic slaughter of the 1990s, when hundreds of thousands of Rwandans were killed.
A harshly worded report from the U.N. last month accused Rwanda and Congo of fighting a proxy war in the region, using the ethnic groups. It said both sides had used execution, rape and child soldiers in the fighting.
On Saturday, fighting broke out between Hutu rebels and Rwandan and Congolese troops in Congo's Lubero region. Omalanga said nine Hutu rebels were killed and one Congolese soldier was wounded.
United Nations spokesman Jean Paul Deitrich also confirmed nine Hutu tribal fighters were killed in the Saturday clashes in Lubero, about 124 miles (200 kilometers) northeast of Goma.
Omalanga said the coalition -- the Rwandan and Congolese forces -- were reacting to the rebels who "shot first."
E-mail to a friend

All About Democratic Republic of the Congo • Rwanda