(CNN) -- Nine Hutu tribal fighters and several Rwandan and Congolese troops were killed in fighting in eastern Congo, a United Nations spokesman said, as the two governments continued an unprecedented partnership to combat ethnic violence.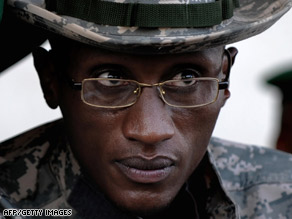 Laurent Nkunda, seen here in November 2008, was reportedly arrested last week in Rwanda.
The fighting against the Hutus in the Lubero region came a day after Congolese rebel leader Laurent Nkunda, of the rival Tutsi ethnic group, was arrested by Rwandan authorities.
U.N. spokesman Jean Paul Deitrich told CNN on Saturday that no further details about the fighting were immediately available.
Lubero is about 200 kilometers (124 miles) northeast of Goma, the regional capital.
Nkunda's arrest early Friday raised hopes for peace in the war-ravaged region. International observers hope it will lead the roughly 1,500 fighters that follow him to join with government forces.

Hear how Nkunda tried to flee capture »
Rwanda and the Democratic Republic of Congo have traditionally been on different sides of the conflict in eastern Congo -- which pits ethnic Tutsis, supported by Rwanda, against Congo-backed Hutus.

The fighting is effectively an extension of the Rwandan genocide of the early 1990s, when hundreds of thousands of Rwandans were killed in ethnic battles between minority Tutsi and majority Hutu.
A United Nations report last month accused Rwanda and Congo of fighting a proxy war in the region, using the ethnic groups. It said both sides had used child soldiers, and committed executions and rape, in the conflict.
E-mail to a friend

CNN's Katy Byron contributed to this report.
All About Democratic Republic of the Congo • Laurent Nkunda • African Politics