HARARE, Zimbabwe (CNN) -- Zimbabwe's main opposition leader, Morgan Tsvangirai, returned to the country Saturday but vowed that he would not be rushed to join an inclusive government.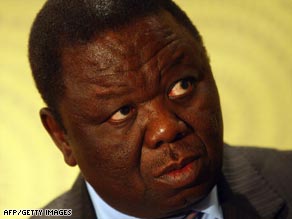 Zimbabwean opposition leader Morgan Tsvangirai is committed to a power sharing deal.
The Movement for Democratic Change (MDC) leader, who has spent much of the past few months in neighboring Botswana, told journalists on arrival at the airport he was "glad to be back."
"I am very conscious of the plight of the people of this country and I hope that the meetings that are going to take place may actually find a lasting solution to the crisis," he said.
"However, I must emphasize that the MDC will not be bulldozed into an agreement which does not reflect the aspirations of the people."
Tsvangirai was referring to a deadlocked power-sharing agreement that he signed with President Robert Mugabe last September. The deal has failed to take off, with Tsvangirai accusing Mugabe of grabbing all key ministries such as defense, information, foreign affairs, finance and home affairs.
South African President Kgalema Motlanthe plans to go to Zimbabwe on Monday to try to resolve the impasse. He expects to be joined by his predecessor, Thabo Mbeki, and Mozambique President Armando Guebuza.
Don't Miss
Tsvangirai said earlier this week that he is committed to a power-sharing deal with Mugabe.
In the past, Tsvangirai has threatened to pull out of the agreement he signed with Mugabe in September. He cited recent abductions and jailing of members of his MDC party as one of the reasons for pulling out of the deal.
Tsvangirai blamed the abductions on Mugabe supporters and said at least 11 members of his party are still missing, while 32 are in police custody facing charges of toppling Mugabe.
The power-sharing agreement would keep Mugabe as Zimbabwe's president and see Tsvangirai becoming prime minister. It follows a hotly disputed presidential runoff in June 2008 that was marred by more than 200 deaths, mainly those of opposition supporters.
E-mail to a friend