JOHANNESBURG, South Africa (CNN) -- Zimbabwe opposition leader Morgan Tsvangirai said Thursday he is committed to a power-sharing deal with President Robert Mugabe, despite recent threats to abandon the deal.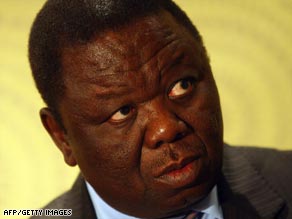 Zimbabwean opposition leader Morgan Tsvangirai is committed to a power sharing deal.
But Tsvangirai also levied a scathing criticism of Mugabe's regime in a speech from South Africa. He condemned recent developments in Zimbabwe that he says have damaged the economy and caused the cholera outbreak to spiral out of control.
"I still believe that a political agreement offers the best means of preventing Zimbabwe from becoming a failed state," Tsvangirai told reporters in South Africa.
Tsvangirai said he has asked South African President Kgalema Motlanthe to mediate talks between him and Mugabe and a meeting could occur later this week.
"If Mugabe is serious about working with me to lead Zimbabwe out of its current crisis, then he will meet me to resolve outstanding issues," Tsvangirai said.
In the past Tsvangirai had threatened to pull out of the power-sharing deal he signed with Mugabe in September 2008. He cited recent abductions and jailing of members of his Movement for Democratic Change as one of the reasons for pulling out of the deal. Tsvangirai blamed the abductions on supporters of Mugabe and said at least 11 members of his party were missing.
The agreement would keep Mugabe as Zimbabwe's president, with Tsvangirai becoming prime minister. It follows a hotly disputed presidential runoff in June 2008 that was marred by more than 200 deaths, mainly of opposition supporters.
In his statement Thursday, Tsvangirai said Mugabe's regime has failed to adequately address the cholera outbreak in the country.
"The nation has lost over 2,000 people due to cholera, an easily treatable disease," Tsvangirai said. "There is no medicine available and most of the government hospitals have shut down for the first time in the history of our country."
Tsvangirai gave the speech in Johannesburg but said he plans to return to Zimbabwe soon. He said he had been out of Zimbabwe since November because Mugabe's regime had not granted him a passport.
"I finally received my passport and this Saturday, I will return to Zimbabwe to continue to fulfill the mandate that we, the MDC, have from the people, to build a new, democratic, peaceful and prosperous Zimbabwe," he said.
E-mail to a friend

CNN Correspondent Nkepile Mabuse contributed to this report.