HARARE, Zimbabwe (CNN) -- Zimbabwe's top human rights activist broke down twice in court Thursday, as she described her detention and alleged torture by state agents last month, saying "I feared for my life."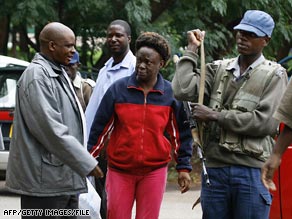 Activist Jestina Mukoko arrives at court in Harare, Zimbabwe, last month.
Jestina Mukoko, who heads the Zimbabwe Peace Project, is accused of plotting against President Robert Mugabe's government. She is charged with banditry -- recruiting people for insurgency training and terrorist bombings.

"I feared for my life most of the time, as I was blindfolded," a tearful Mukoko said.
"I used to sit on the floor. One day when they asked me to sit on a chair I feared for the worst. I thought it could be an electric chair. Throughout my stay in captivity, they kept threatening me with extinction."
The court took no action Thursday but was to reconvene Friday.
She has asked the Supreme Court to declare her detention, alleged torture and charges illegal. The court may consider her request next week.
Mukoko was taken December 3 from her home in Norton, about 40 kilometers (25 miles) southwest of the capital, Harare, by kidnappers who later turned out to be state agents. She was missing for three weeks.
Don't Miss
Police refused to disclose her whereabouts or anything about her kidnappers, citing security concerns.
Mukoko, who appeared exhausted in court, also said the bottoms of her feet were beaten while she was in custody, and the pain kept her awake at night.
"My feet are sore and burning especially at night," she said.
The activist said the assaults on her began after she denied ever working for the Voice of America. She worked for the Voice of People, a radio station that broadcasts into Zimbabwe from abroad.
Mukoko is among 32 human rights activists, most of them from the opposition Movement for Democratic Change (MDC), who were imprisoned on banditry charges. The others were detained in October by Zimbabwean security forces, according to the U.S. ambassador to Zimbabwe and a human rights lawyers group.
All the activists resurfaced in public for the first time December 24 -- in court.
Zimbabwe's director of prosecutions, Florence Ziyambi, said Thursday that Mukoko's rights were not violated by her detention.
"She can ask for remedies and compensation for the ill treatment she claims she went through," Ziyambi said.
Mukoko's lawyer, Beatrice Mtetwa, responded: "No amount of compensation can pay the damages Jestina suffered, especially if it is worthless piece of paper you want to call currency."

Mtetwa was referring to the Zimbabwe currency, which is virtually worthless because of the country's hyperinflation.
Mtetwa brought several issues before the court.
She said the state was committing a "very serious violation" by denying Mukoko the medication and health care she needs, despite several court orders.

Zimbabwe's Supreme Court ruled Wednesday that the activist must soon receive health care at a private clinic.
"The applicant must be afforded medical attention as a matter of urgency," said Chief Justice Godfrey Chidyausiku.

He also ruled that the activist's application to quash her charges and detention was urgent and he will determine a trial date soon -- after the lower court has finished some formalities.
Mtetwa also questioned the objectivity of Attorney General Johannes Tomana, who has said Mukoko was a "threat to society and must not be released."
On Wednesday, Tomana was quoted by the state-run Herald as saying: "I am Zanu-PF (Mugabe's party) and I am proud to be of that party. Nothing bars me from being a Zanu-PF supporter. Our law protects that right.
"I am very good at separating business from politics. I do not appreciate the undue concern that there is a problem with my association with Zanu-PF," Tomana said.
Asked whether she had anything else to tell the court, Mukoko said: "If people commit an offense or are accused, they must not be treated the way I was treated. It is inhumane and degrading."
The detentions and alleged mistreatment of the activists have threatened a faltering power-sharing deal between MDC leader Morgan Tsvangirai and Mugabe that was signed in September. Tsvangirai blamed the detentions on supporters of Mugabe, and said at least 11 members of his party were missing.
Under the deal, Mugabe would remain president and Tsvangirai would become prime minister.

The agreement came after a hotly disputed presidential race. The run-off in June was marred by more than 200 deaths, many of them opposition supporters.
On Thursday, Tsvangirai said he was committed to the deal, despite recent threats to abandon it. But he also strongly criticized Mugabe's regime in a speech from South Africa, condemning recent developments in Zimbabwe that he says have hurt the economy and caused a cholera outbreak to spiral out of control.
E-mail to a friend

All About Zimbabwe • Robert Mugabe • Morgan Tsvangirai