(CNN) -- Two journalists -- one British and one Spanish -- who were kidnapped in Somalia in November have been released, according to a Somali press group.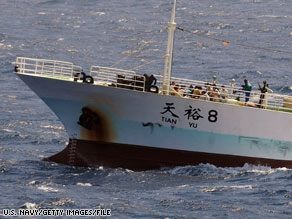 Pirate activity off Somalia was being covered by two journalists reported kidnapped, a press group says.
British journalist Colin Freeman and Spanish photojournalist Jose Cendon, both working for London's Daily Telegraph newspaper, had been in the Somali port city of Bosasso to report on pirate activity when they were abducted on November 26, according to the National Union of Somali Journalists (NUSOJ).
In a brief statement on Sunday announcing the release, the NUSOJ gave no details of the release or of the condition of the two journalists.
"While we welcome the release of Colin Freeman and Jose Cendon, it is intolerable that journalists are kidnapped for their legitimate work in order to get ransom," Omar Faruk Osman, NUSOJ secretary general, said in the statement.
When the kidnapping occurred, the New York-based Committee to Protect Journalists said two Somali journalists were taken along with Freeman and Cendon. The NUSOJ statement did not mention the two Somali journalists.
But the statement did call for "immediate and unconditional release" of three other journalists who, according to the NUSOJ, were abducted in Mogadishu in August.
E-mail to a friend

All About Somalia • Pirates • Kidnapping