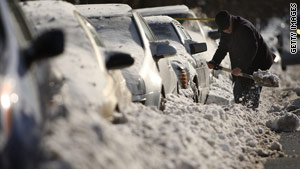 As the East Coast digs out of a record-breaking storm, another storm approaches the Midwest.
STORY HIGHLIGHTS
Coming storm threatens to snarl travel later this week
On Wednesday and Thursday, weather could pose a problem for travelers in Chicago
System could bring snow from Wisconsin to as far south as Texas, forecasters say
Nearly 200,000 residents hit by nor'easter still without power
(CNN) -- While East Coast travelers recovered Monday from a nor'easter that stranded thousands, a winter storm taking aim at the Midwest threatened to give travelers there a headache later in the week.
Monday marks the first day of astronomical winter, and residents and travelers from North Carolina to Massachusetts could say they felt Old Man Winter knocking. The area was smacked by a storm that blanketed a swath of the East Coast in snow, forcing the cancellation of hundreds of flights over the weekend.
On Wednesday and Thursday, inclement weather could pose a problem for travelers in Chicago, Illinois, CNN's Weather Center reports. The city could be awash in freezing rain, which would ground or delay flights, possibly having the biggest impact at the city's largest airport, Chicago O'Hare International.
Travel disruptions at Minnesota's Minneapolis-St. Paul International Airport also are possible because of the weather, but are not as likely, according to the Weather Center.
The weather system could bring cold air and ice from Wisconsin to St. Louis in eastern Missouri, possibly even dropping snow in Texas on Wednesday night and Thursday, CNN meteorologists said.
While residents in the Midwest await a potentially icy Christmas, in the East, airlines scrambled to accommodate passengers affected by the weekend storm.
In addition to refunds, a spokesman for Delta said the airline is providing a weather waiver that allows passengers to reschedule without a penalty if they were scheduled to travel before Christmas.
"We're doing everything we can to accommodate customers to get them to their holiday destinations," said Paul Skrbec, Delta spokesman.
American Airlines said it would add extra flights, use bigger planes where possible and move passengers to other flights.
Passengers who were affected can switch flights with no change fees through Thursday, said Charley Wilson, airline spokesman.
Continental Airlines said that although flights are extremely full because of the holidays, it is working on a "case-by-case basis" to ensure passengers get home for the holidays.
Passengers can also either get a refund or change their flights for free at Continental's Web site or through its 800 number, said spokeswoman Mary Clark.
Record snow blanketed some areas Sunday, including 23 inches in Bethesda, Maryland; and 24 inches in Medford, New Jersey. Philadelphia, Pennsylvania, received 23.2 inches, its second-highest snowfall in a single event.
Dulles and Reagan National airports in Washington saw snowfall of 18 inches and 16.4 inches respectively -- the highest one-day totals for December.
Nearly 200,000 people in five states were without power Monday evening after the nor'easter battered the east, and some customers could be without electricity well into the weekend.
Western North Carolina, West Virginia, Virginia, eastern Kentucky and northeast Tennessee have a combined 182,588 people without power, according to three utility companies that serve the areas.
The five states suffering from mass outages all lie along the Appalachian Mountains, and utility companies have said that steep, rugged terrain has slowed progress.
CNN's Sean Morris, Khadijah Rentas and Laura Batchelor contributed to this report.