(CNN) -- Rain poured across parts of California early Wednesday, prompting a flash flood warning for southern acreage already torched by wildfires.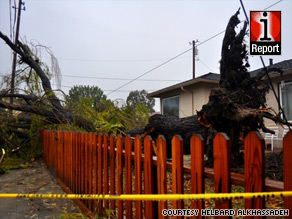 Heavy rain that began pounding California on Tuesday threatens to unleash dangerous floods and mudslides.
The National Weather Service issued the warning for areas in and around coastal Santa Barbara County.
The rain could cause flooding and mudslides where the Gap Fire torched about 10,000 acres during summer 2008, forecasters warned. They expected close to 1 inch of rain per hour in the area.
"Doppler radar indicated very heavy rain across the Gap burn area," the National Weather Service said. "This is expected to cause flash flooding and debris flows in and around the Gap burn areas."
Fire and emergency officials warned residents in vulnerable areas to sandbag around homes and be ready to evacuate if needed.

Watch how heavy rain is disrupting life »
Forecasters described the rain system, which hit Northern California earlier this week before sweeping south, as the first major storm of the season. iReport.com: Are you there? Share images

The Santa Cruz County Office of Emergency Services said it activated its reverse 911 system Tuesday -- making automated warning calls to residents as needed -- and ordered evacuations for 60 homes in Davenport. The unincorporated coastal community, which was in the Gap Fire's path, is southwest of San Jose. iReport.com: Storm inflicts major damage
Many roads were flooding in Santa Cruz County, emergency management officials said.
E-mail to a friend

All About National Weather Service • California