By Ashley Fantz
CNN






AUSTELL, Georgia (CNN) -- "These are top notch. I mean, these are really good!" said Cosman Dragoiescu, holding a plastic Panera Bread cup with two sugar-sprinkled, glazed nuggets that did look, for the most part, tasty.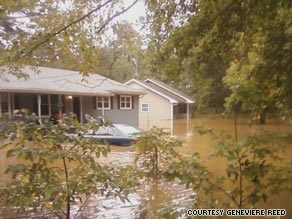 Geneviere Reed's home was flooded Monday and she wonders when she'll be able to return.
"Some bakery went bankrupt and dropped off their supply here."
On Tuesday, about 50 people, refugees from historic flooding, were still lingering in a Red Cross shelter in Austell, Georgia, near Sweetwater Creek. The creek reached 18.21 feet on Monday afternoon, 8.21 feet above flood stage.
Dragoiescu's condo, which he owns, was flooded to its second floor. He'd seen his car turn into a boat and his refrigerator become a floatation device. But it seemed gauche to complain; there really was no need for it.
"First, this shelter is embarrassingly nice," he said. "I have stayed at the Ritz Carlton, and I know what hospitality is. In terms of that -- hospitality -- nothing beats this place."
Behind him, a Red Cross worker had gathered eight small children into a semicircle to lead them in a song. Fresh coffee brewed. Thick Red Cross blankets were everywhere, handed out by workers who appeared to be listening rather than shepherding.
The typical soundtrack of a shelter, punctuated by children crying and the low hum of misery, was hard to hear. "You really cannot be too upset about things," Dragoiescu said.
Dragoiescu's mother, Elena Bercu, nodded her head as if to say "perspective." No one wants to be the jerk who complains too loudly while memories of Hurricane Katrina are still relatively fresh.
A few steps away, Lee Temple sat on a cot next to his wife, Mary.
"This is organized, nothing like what you saw those people [in New Orleans] go through," he said, stirring his coffee and trying to get Mary to smile. "Heck, it's going to be fine."
Don't Miss
She seemed slightly more concerned, offering that they had lived in their Austell home for 24 years. The photos, that old clock, her kitchen table.
"We were just watching the water come on up the driveway, just come on up the way it did," she said, steadying herself with her cane. "Police came to our door in a raft and told us that we had to leave. They just came on up ... in a raft! I couldn't believe what I was seeing."
Geneviere Reed and her 9-year-old son were starting to lose their humor. The light blue clapboard home they left, deep in the woods that she bought for its lush yard, was halfway underwater. She showed a picture on her cell phone.
"And that's us paddling away on the boat with the rescue workers," she said, staring at the picture. "That's the water. Look at that."
Shante Collins and her neighbor Kimberly Couch also were told to get on a raft when police knocked on their door. They live in a mobile home neighborhood that on Monday resembled a small lake.

"They said it was time to get out," said Couch. "That was 11:30 p.m. and we just got dropped off here."
"We don't know what our home looks like," she said. "You know, not going to think about it right now. We're staying here. Place to sleep, kids running 'round. I don't know what else to say. We just gonna live and see."
E-mail to a friend