(CNN) -- Hurricane Bill is expected to remain in open waters this weekend, but experts warn it still poses dangers along the U.S. East Coast.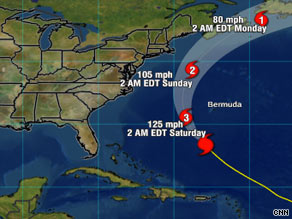 Hurricane Bill is expected to pass between Bermuda and the U.S. East Coast over the weekend.
Although Bill weakened Friday afternoon to a Category 2 storm, CNN meteorologist Bonnie Schneider said it was "still a large and dangerous storm," especially the threat of rip currents along the coast.
Rip currents, or rip tides, are strong seaward flows of water that occur where there's a break in the shoreline. They are capable of pulling even strong swimmers out to sea, and they are difficult to detect.
The National Hurricane Center warned that Bill could regain some strength Saturday as it passes between Burmuda and the East Coast and warned of "extremely dangerous surf and life-threatening rip currents" along much of the East Coast and the Canadian Maritime Provinces.
Mike Schapiro knows the danger of a rip current. He found himself in the powerful surge when he was 7 years old.
'After the Storm' A Special American Morning Series
Four years after Katrina, what is New Orleans like now? How residents continue to suffer and rebuild.
All next week, 6 a.m., ET.

"I was being pulled along with a rip tide in Belmar, [New Jersey]," he said. "I panicked. But, fortunately, I was eventually able to stand. Another person in the water had to be rescued."

Watch CNN's Bonnie Schneider talk about rip currents »
As of 11 p.m. ET, Bill's center was about 180 miles west-southwest of Bermuda and about 545 miles east-southeast of Cape Hatteras, North Carolina.
Forecasters have said the storm will pass between Bermuda and the U.S. East Coast Saturday. Hurricane-force winds extended outward up to 85 miles from Bill's center, and tropical storm-force winds outward as much as 275 miles, the center said.
A coastal flood warning was issued late Friday for areas along the North Carolina coast, with ocean overwash expected to be significant along the Outer Banks north of Cape Hatteras.
The National Weather Service on Friday issued a high surf advisory for Virginia Beach, Virginia, and warned of a high risk of rip currents.
The Virginia Beach Emergency Medical Services Department ordered red flags be flown to warn beach-goers of rough waters. And the Virginia Beach Lifesaving Service closed the oceanfront for the weekend, according to CNN affiliate WAVY-TV 10.
Still, some people still were out enjoying the water, albeit with caution.
"I think [the flying of red flags] means we should be paying attention," Erma Wicks told CNN affiliate WAVY. There is an alert in the water. But there's no problem; I'm not going in that far."
Farther north, the Rhode Island Emergency Management Agency began making preparations ahead of the rough surf that was expected to hit this weekend.
RIEMA said on its Web site that it planned to staff its lifeguards at "monitoring" level this weekend.
"We have to plan for the worst and hope for the best in this situation," RIEMA Director J. David Smith told CNN affiliate WPRI.
In New York, all beaches facing the Atlantic Ocean were closed "due to heavy, high waves and particularly heavy currents," New York City Parks and Recreation Commissioner Adrian Benepe said.
"The lifeguards have a lot of experience with these ocean beaches and they just felt it was really too difficult to keep swimmers out of danger," Benepe said.
"We're seeing very strong currents and increased wave height, waves of six to eight feet at Rockaway Beach. The normal out there is usually no more than two or three feet," he said.
In Montauk, New York, the easternmost point of Long Island, at least one merchant was erring on the side of caution after hearing forecasts for choppy seas.
"I can't cry wolf," said Henry Uihlein, who owns Uihlein's Marina and Boat Rentals in Montauk.
"I start crying wolf about this, it looks like I'm alarming people to haul their boats prematurely," Uihlein said. "But I am going to haul all my boats out of the water. That way I can handle if it does come close. People don't want to go through the expense and aggravation of hauling their boats out if the storm is going to miss us."

Uihlein said he witnessed the rough seas and had seen enough.
"I just got back in from off the water. I was about maybe three miles northeast of the Montauk Lighthouse," he said. "Once you get past the lighthouse, it's getting nasty."
E-mail to a friend

CNN Radio's Shelby Lin Erdman contributed to this report