(CNN) -- Violent thunderstorms and at least one tornado ripped through the Midwest on Wednesday, killing at least three people, damaging many homes and causing widespread power outages, officials said.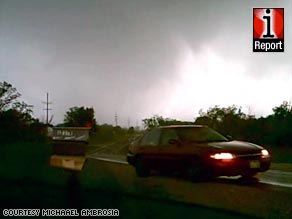 iReporter Michael Ambrosia captures a twister Wednesday near Novinger, Missouri.
Michael Ambrosia, who says chasing storms is his hobby, called it a "bad mistake" to pull over on Highway 6 in Novinger, Missouri, as a twister loomed in the distance.
"Oh ... I got close ... OK, that's the closest I've ever been ... It's getting very windy," Ambrosia says on an iReport he sent to CNN.com.
One can hear tires screeching as other cars are trying to tear out of the twister's path. Ambrosia stays put. Send your photos, video from the storms
"It's about 50 yards from me ... Okay, this tornado ... is ... wow," he says. "It's coming across the road here in front of me. Oh, OK, actually, this is too close. You can feel the winds. Oh, my gosh, I've never been this close before. This one is a fat one, never seen one this wide!"

Watch Ambrosia dodge a twister »
Meanwhile across Missouri, state Emergency Management Agency spokeswoman Susie Stonner said three people died during the storm, including an elderly woman in a mobile home in Milan in Sullivan County, according to CNN affiliate KMBC-TV. Two other people died in neighboring Adair County, according to Tammy Babcock, a spokeswoman for the Missouri State Highway Patrol.
Don't Miss
All deaths are believed to be related to the tornado, KMBC reported.
Kirksville, in Adair County, reportedly was hit the hardest in the state. Three people were injured when their car was blown off the road, according to Stonner.
A Missouri television reporter spoke with a mother and her young son who said they pulled over and had their car windows blown out by the storm. They were unhurt, according to KMBC.
Although officials in Oklahoma have not confirmed it was a twister, hail and severe storms damaged homes and businesses in southeast Oklahoma, according to media reports.
"We don't know if it was from straight-line winds or from a tornado. There are power lines down everywhere, and firefighters are going door-to-door to check and see if people are trapped in cellars," Caddo County Emergency Management Director Larry McDuffey told KOCO-TV in Oklahoma City.

The Caddo County jail evacuated dozens of inmates from the facility after a gas line broke, McDuffey said.
The storms arrived as VORTEX2 kicks off. It's the largest and most ambitious field experiment ever devoted to studying tornadoes. Now under way through June 13 in Oklahoma and surrounding states, the project brings together almost 100 scientists and students from 16 universities and research institutes. Learn more about VORTEX2
E-mail to a friend

All About Tornadoes