(CNN) -- The cause of a South Carolina wildfire that has charred about 19,600 acres appears to be a yard debris fire, the head of the state's Forestry Commission said Friday.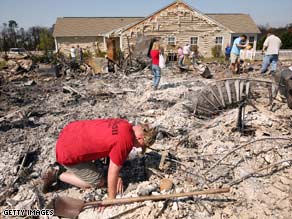 Derek Boos sifts through the wreckage of his in-laws' house Friday after a fire in Myrtle Beach, South Carolina.
The blaze seems to have been caused by a yard debris fire in the Woodlawn subdivision, an unincorporated part of Horry County, halfway between Conway and North Myrtle Beach, South Carolina Forestry Commission Forest Protection Chief Darryl Jones said.
The fire began Saturday and rekindled itself Wednesday evening, according to the Forestry Commission.
Officials said about 70 homes had been destroyed in the county, which contains a stretch of popular tourist spots, including Myrtle Beach. About 100 other homes were damaged, Horry County officials said.
The blaze left only charred rubble and the smoldering, skeletal remains of some houses, even as adjacent homes went untouched. The fire swallowed up pines and dry brush, sending a smoky gray smudge into the sky that could be seen for hours from miles away Thursday.
"It's better now, but the smoke was pretty much everywhere," said Chavdar Pavlov, a CNN iReport contributor who lives 20 miles from where the fires raged. "At nighttime, it was like snow in the air, but it wasn't snow; it was ashes."
The Horry County Council's Brent Schultz said, "The only way to describe this is tragic."
At a Friday morning news conference, frustrated residents who had evacuated demanded to know when they could return home, yelling at Bob Grabowski of the Horry County Council.
"I just want to go home," one man cried out, prompting Grabowski to pause. "Come on," others said.
"That will be addressed," he said. "We'll get with you on that."
About 2,500 people were evacuated Thursday, authorities said, and more than 400 people were in shelters. No fatalities or injuries have been reported from the blaze.
Horry County said the fire was about 40 percent contained by early Friday.

Watch as residents face uncertainty about their houses »
"It's on everybody's mind and in everyone's conversation," said the Rev. Marion Brazell, whose Conway church was serving as a shelter. "It's pretty flat area, so you can see the smoke from a distance."
Brazell had not yet arrived at the church Friday, but he said he believed only Red Cross and other emergency workers were staying there. The evacuations occurred north of Conway, he said.
He added good-naturedly, "Shelters are often the last place people will go. They'll go to hotels and motels" that may offer rooms for free. "I'd rather go to a motel than sleep in my church. ... It's much more comfortable than sleeping in a cot," he said.
The fire has mostly kept its distance from tourist areas, and as the South Carolina officials provided updates and warnings to residents, they urged visitors to stay.
"For tourists coming here for vacation, we should have no problems taking care of our guests and visitors that are going to come to Myrtle Beach and North Myrtle Beach," Grabowski said.

And North Myrtle Beach Mayor Marilyn Hatley, answering a question about tourism, said Thursday: "People who have reservations can certainly come onto the Grand Strand area and enjoy themselves. It is not affecting the majority of golf courses; there should be no reason that anyone is canceling their vacation."
Hatley said she could not say if any golf courses had been damaged. "The golf course property itself was not our first priority," she said.
E-mail to a friend

CNN's Mike Phelan, Lisa France and Taylor Gandossy contributed to this report.
All About South Carolina • Myrtle Beach • Wildfires