By Jim Kavanagh
CNN





DECATUR, Georgia (CNN) -- One falling tree saved John Kiefer from another.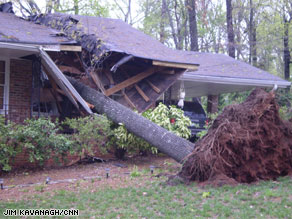 Windstorms in Atlanta, Georgia, uprooted several trees, including this one that fell through John Kiefer's home.
Kiefer was sitting on his sofa Monday morning while a brief but intense windstorm blew through the Atlanta, Georgia, area, including Decatur. He heard a tree crash in his backyard and got up to investigate.
That tree knocked down a chain-link fence, and Kiefer was getting worried about several other large backyard trees that were swaying in the wind.
"And as I'm watching those move and sway, this crashed down," he said.
"This" was a 50-foot red oak in the front yard that fell onto his living room, splitting his house in half and coming to rest a few inches above where he had been sitting on the couch.
"Yeah, it's a mess," he said as he surveyed the tangle of broken wood beams, plaster, bricks and gray insulation.
Curiously, Kiefer's electricity was still on, and cable TV was still playing less then 10 feet away from the massive tree trunk in his living room. An ancient upright piano and various collectibles on it were unharmed.
Kiefer had been away over the weekend, visiting a son in Cincinnati, Ohio, and his three dogs were still at the kennel where he boarded them. They'll be staying there a bit longer.
Three years of drought in Georgia have weakened trees' root systems, and recent heavy rains loosened the soil around them, said Kiefer, who works at a plastics recycling company in nearby Stone Mountain. The windstorm brought down hundreds of trees in the area, including one that crushed a car, killing the person inside, and one that fell on a nursing home, where no one was hurt, CNN affiliate WGCL reported. Service was disrupted on Atlanta's MARTA rail transit system, according to WGCL.
Power and traffic signals were out in many areas.

Watch CNN report about dangerous storms »
Despite having a tree lying across his living room, Kiefer seemed remarkably calm, but that was a new development.

"Couple of hours ago my knees where shaking pretty good," he admitted. But, he said, God was looking out for him.
"Actually, he saved my life," Kiefer said. "When I came outside to investigate that noise, that was my warning to get up off that couch. And then, not to go back in the house when it got real windy, but to stand right there where that tree stopped. There are no coincidences."
E-mail to a friend