(CNN) -- Wildfires continued to spread across a north Texas town Sunday, sweeping over more than 12,000 acres and destroying eight homes in their path, officials said.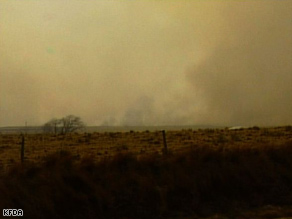 Wildfires in the Texas Panhandle have destroyed homes and forced evacuations.
Shifting winds fanned the wildfires that began Saturday afternoon in the town of Wheeler, threatening 300 homes and 60 business and forcing about 200 residents of the 1,400-person town to evacuate.
The evacuation order was lifted later in the evening.
Wheeler is in the Texas Panhandle, east of Amarillo and near the Oklahoma border.
By Sunday afternoon, eight houses and more than two dozen outbuildings, such as barns and sheds, had been destroyed, said Lewis Kearney, a spokesman for Texas emergency services.
Authorities believe the fires started from a fallen power line, Kearney said.
Four firefighters were treated for dehydration and smoke inhalation, and were not allowed to return to the fire line, Kearney said.
No other injuries were immediately reported.
To complicate matters, four other smaller wildfires continued to burn in Texas on Sunday, each ranging from 100 to 2,000 acres, authorities said.

E-mail to a friend

All About Wildfires • Texas Panhandle