FARGO, North Dakota (CNN) -- Just as the flooding threat decreased in parts of North Dakota, a major snowstorm continued to smack the area Tuesday, forecasters said.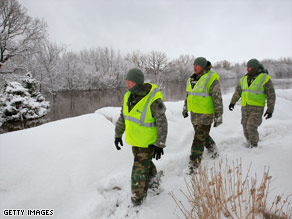 North Dakota National Guard members inspect a levee Monday along the Red River near Fargo.
Residents in and around Fargo, North Dakota, breathed a sigh of relief Monday as waters of the Red River had receded.
But the snowstorm could dump as much as 16 inches of snow near the Red River Valley, which could add to the level of the river.
The river, which at one point was at a historic level of nearly 41 feet, had fallen below 39 feet Monday.
By 7 a.m. CT (8 a.m. ET), the river was forecasted at about 38 feet and was expected drop to the 18-foot flood level by early next week.
Officials had scaled back the furious sandbagging effort in the Fargo area as the river dipped. But with more than a foot of new snow falling, North Dakota officials weren't ready to let down their guard.
"It's not over," Fargo Deputy Mayor Tim Mahoney said during a televised meeting of officials Monday. iReport.com: See, share images of flooding
"We're still in a flood fight, so now you just have to be careful and watch things, and we'll monitor as we go along."
Still, he said, it's time to "start thinking about what we'd do if we weren't fighting a flood. So we're now going to start talking to different people to see when we can start getting things back online and get going."
Don't Miss
The snowstorm was expected to hit the area until Wednesday. But the National Weather Service warned of another rise in the river level in mid-April as temperatures begin to warm and melt the snow.

Watch how the storm could bring new problems »
Two deaths and 50 injuries have been reported in flood-related incidents. The injuries included victims of car wrecks caused by flooded roads, epidemiologist Kirby Kruger said. Other problems, including mental health issues, carbon monoxide poisoning and cardiac-related events, were reported, Kruger said.
Water seeped into two of five buildings at the Oak Grove Lutheran School primary and secondary complex after a flood barrier began to leak, officials said. School officials said the two buildings had about 6 inches of water in the basement. The school last flooded in 1997.
President Obama has signed emergency and disaster declarations for Minnesota and North Dakota, freeing up federal funds.
The flood's crest of 40.82 feet on Saturday broke a record that had held since 1897 when the Red River reached 40.1 feet at Fargo.
In 1997, the river reached 39.6 feet, a level that many residents thought would be the highest they'd ever see.

"Everybody thought after '97 that we had seen the worst possible situation," Fargo resident Jim Shaw said.
"We thought we were safe; we survived that one, we're good for the rest of our lives. So believe it or not, even though this area is prone to flooding, this is a big shock. This is a big stunner, and it's probably a wake-up call," Shaw said. "Some people might reconsider wanting to stay here."
E-mail to a friend

CNN's Susan Roesgen, Steve Kastenbaum, Dina Majoli, Chuck Johnston, Chad Myers and Dave Hennen contributed to this report.
All About North Dakota • Fargo • Floods