By Jim Kavanagh
CNN





(CNN) -- Jen Sondag got eight hours of good sleep Friday night.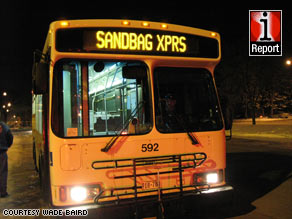 Wade Baird says he had a tough time finding places to help out with flood preparations in Fargo, North Dakota.
The CNN iReporter and other volunteers finally were able to relax after a week of frantic preparation for potential flooding in the Fargo, North Dakota, area. The Red River appeared to be leveling off Saturday morning, short of forecasters' predictions of a historically high crest.
"We're really pleased with that," Sondag, 25, said from Moorhead, Minnesota, where she was helping her parents' neighbors get a frozen pump going. "They changed the crest so many times already, we're just cautiously optimistic about the whole thing. Hopefully [the forecast is] correct and hopefully it's starting to go down."
A tree in the neighbor's yard, across the river from Fargo, showed an ice line indicating the water had receded slightly.
Sondag's parents, Barb and Charlie Matthees, had their bags packed and were ready to evacuate on Friday but ended up staying.
"We were ready to go but we decided to stick it out and build some walls around the house," Barb Matthees said.
She and her husband were working on their own generator, which runs a pump that gets rid of water that seeps through the sandbag dike around their home.
Don't Miss
"It's important that the generator and the sump pumps be working and manned -- or 'personned.' Somebody's got to keep an eye on them 24/7 now until the river goes back down to where it belongs," Matthees said.
"We've moved from the building stage to the vigilant monitoring stage. Hopefully we're going to avert any disasters."
The family had spent much of the previous day moving 25 years of collected belongings from the basement to a higher level in case floodwater got in.
"It's easier to move dry than wet," Matthees said.
The river will continue to be high for several days and will continue to strain the dikes, so residents can't relax too much, she said.
"The sun is out, which really helps with moods a lot, and people are feeling more encouraged," she said Saturday morning.
Matthees, who teaches nursing at Minnesota State University-Moorhead, noted that much of the sandbagging work throughout the area had been done by students from several colleges, but those students are now gone because the campuses were closed. But students were hardly the only volunteers. "Everybody's doing something," Matthees said.
She praised a group of 11 firefighters who came up from Alexandria, Minnesota, 100 miles away, to help sling sandbags in a thunderstorm.
"Now these are volunteer firefighters, so they took time off from their jobs to come up here and help us sandbag," she said. "And so we're out in the rain and then it starts lightning, and these guys are out doing the sandbagging. And we were so appreciative, but all I could really do was offer them pizza in my garage."
CNN iReporter Wade Baird of West Fargo, North Dakota, who had been volunteering alongside several co-workers in various locations throughout the week, found few opportunities Friday and none Saturday.
"We've been checking the Web sites and stuff, but they say they don't need any volunteers anywhere, so we're kind of back into the sit-and-see mode, I guess," he said.
Baird, a 30-year-old software engineer for Microsoft Corp., shrugged off his contribution.

"Somebody asks you to help out, and it's more feeling guilty if stuff's going on like that and you're not helping out," he said.
"That's the way a lot people are up here. There's a lot of people around here who have been out here every day, all day long," he said. "It's not any unique thing up here."
E-mail to a friend